Sapphire
September's Sensational Sapphire

By Deborah Yonick
Sapphire, hailed by many gem experts and trends trackers as the most popular color stone on the market, has been the traditional birthstone for September since Jewelers of America established the modern list of birthstones in 1912.
Did you know?
Its designation as a talismanic gem is rooted in the Bible, one of 12 stones for each tribe of Israel adorning the breastplate of the high priestess. Steeped in the history and lore of nearly every religion and culture, Sapphire always has been associated with sacred and royal things.
Related to the third eye chakra, Sapphire is believed to provide energy for reflection and insight. Inspiring peace, joy, wisdom, and well being— Sapphire is said to illuminate the true inner beauty of those of wear it.
Fashion and Celebrities
And those who wear it include a long list of A-list fashionistas. The go-to-gem of stylists, Sapphire remains one of the most popular color stones on the red carpet. Bold drop earrings, big cocktail rings, statement necklaces, and bracelets stacked up the wrist are the favorite styles spied in Sapphire.
Among the most talked about Sapphire baubles at recent events include Margot Robbie at the Oscar's in Van Cleef & Arpels' "Zip" tassel necklace with over 300 Sapphires, fashioned after one owned by the Duchess of Windsor in the 1930s; and Maura Tierney at the Golden Globes in Sutra sliced Sapphire drop earrings totaling 80 carats. Sapphire is a top choice for Sutra designer Arpita Navlakha, for its timeless beauty, glamorous luster, and great durability. "In any form—full or rose-cut, sliced, bead or cabochon—Sapphires are remarkable to work with."
Bridal Jewelry
Boasting brilliance and durability near that of Diamond, it's no wonder that Sapphire is a popular gem alternative to diamonds in bridal. Research from The Knot cites about 10% of engagement ring centers are a color stone, up from virtually non-existent not too long ago, with Sapphire at No. 1. Brides too are adding color stone accents to a traditional Diamond center or in stackable bands around it. Kate Middleton, Penelope Cruz, and Elizabeth Hurley are among the famous brides-to-be proposed to with Sapphire rings. Sapphire is the suggested gem gift for the fifth and 45th wedding anniversaries, but symbolizing truth and promise keeping makes it perfect to celebrate every passing year together.
Sapphire's popularity also has a lot to do with more opportunity to find a larger, lustrous, cleaner, better cut gem than other precious stones that inherently have more inclusions, says Sam Haghighat, partner in the New York-based Ijadi Gems, specializing in blue Sapphire. "It's much easier to obtain a clean 10-carat Sapphire than one of the other precious stones."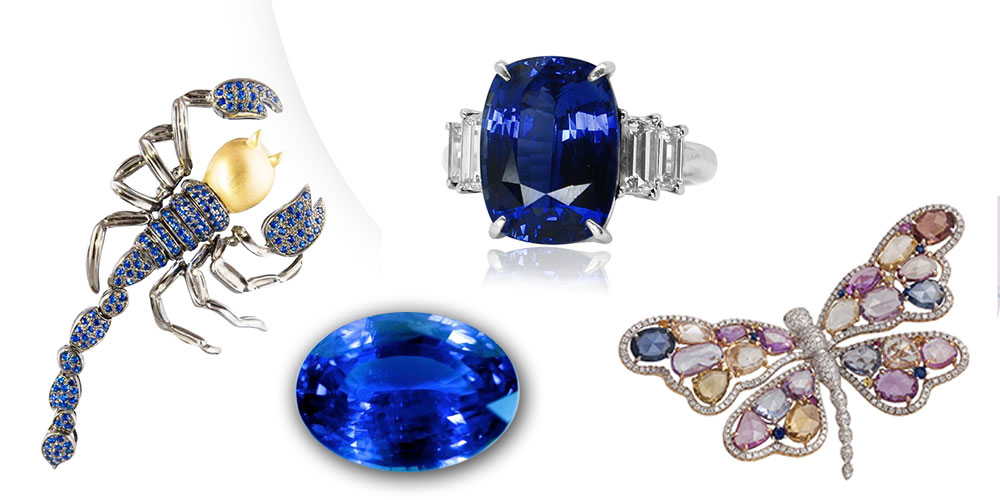 Rainbow of Colors
Gem of the heavens, Sapphire's name comes from the Latin word for blue sapphirus, the color for which the gem is best known. The intensity of the blue color is the primary factor in determining value.
While there are many shades of blue in Sapphire, those characterized as "Royal Blue" and "Cornflower Blue" are among the most coveted, says Haghighat. "Royal Blue describes a richer, more highly saturated blue, but in a narrow spectrum of shades. If the color gets too deep it can look inky and sleepy. Cornflower Blue describes a more velvety blue color that comes in a variety of shades from light to intense." He says "Royal Blue" Sapphires are highly coveted in Asia, while the U.S. and European markets prefer "Cornflower Blue".
Dubai designer Reem Mobassaleh of R.Y.M. Jewelry describes the depth of color of good quality blue Sapphire as mesmerizing. "As a child, the first jewel I was allowed to borrow from my mother was a blue Sapphire and Diamond ring she had bought with her first paycheck after university. While the Diamonds flashed beautifully, it was the eternal blue of the Sapphire that captured my attention." Lebanese designer Gaelle Khouri hails blue Sapphire compatible with a mix of metals, especially vibrant against darkened silver and luminous gold.
One of the most prolific gems in color, Sapphire is available in virtually every hue including yellow, peach, orange, pink, violet, purple, and green, as well as colorless, gray, and black. Sapphire called "padparadscha" is a special variety of in a delicate color blend of orange and red, says gem trader E. Gamini Zoysa of Mincraft in Sri Lanka, who cites strong demand. But the color red is reserved exclusively for its gem sister ruby, both members of the corundum mineral family.
In fact, Sapphire is the ideal gem to interpret just about all of Pantone's seasonal colors, with shades of blue leading the palette for 2016-2017. Josh Hall with Pala International, Fallbrook, California says blue Sapphire dominates sales requests, but he also sees more demand for fancy colors, especially pastel shades like peach and "Morganite". Zoysa cites yellow and purple particular fancy favorites.
"We love to design with Sapphire because of the broad range of colors it comes in, and when you shop for Sapphires you never know what you'll find," says designer Lauren Kessler of Lauren K Fine Jewelry, New York. "Not only do we enjoy combining colors, but also different cuts like slices with faceted."
Treatments
Today the majority of Sapphires are heat-treated to produce, intensify or lighten color and/or improve clarity—results that are permanent and stable. Other treatments like oiling, dying and surface diffusion are occasionally seen. As with all major precious stone purchases get a certificate from a reputable gem lab.
Demand is especially keen for non-treated, certified goods, the supply of which continues to challenge gem houses to keep this merchandise in stock. Record prices achieved at auction speak to the growing trend among investors for important color stones.
Phenomenal Stones
Beyond its variety of colors, Sapphire can display a star-like phenomenon called asterism, caused by dense inclusions of tiny fibers of the mineral rutile (also known as silk). The star (typically six-ray) is caused by the reflection of light on parallel-arranged inclusions inside the stone. Since rutile is present in star gems they are rarely completely transparent. Black star Sapphire owes its star and dark color to included crystals of hematite. Typically, the paler the body color, the brighter the star, say Zoysa "Fine star Sapphires display a sharp six-rayed star well centered in the stone that should run down to the girdle, not half way."
There also are Sapphires that change color when viewed in different light sources, with blue to violet-purple the most common transition in this exceptionally rare variety of corundum. Color change Sapphire is the stone du jour for Los Angeles designer Erica Courtney. "We adore phenomenal gemstones because they have such magic in them. We love to see the change!"
Sapphire comes in all shapes and sizes and is found in many parts of the world, but the most prized gems are from Kahmir, Burma, Sri Lanka, and Madagascar. Tanzania's Tunduru region and Umba Valley are important for fancy colors. Montana also produces some beautiful blue and fancy colored Sapphires.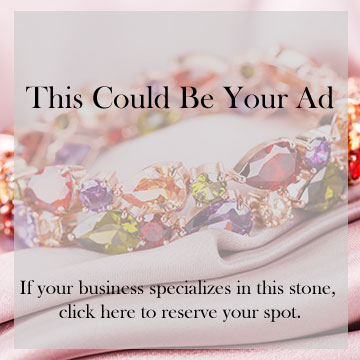 Gem by Gem