Larimar
Goodbye to the "Larimar King"- Charles Mark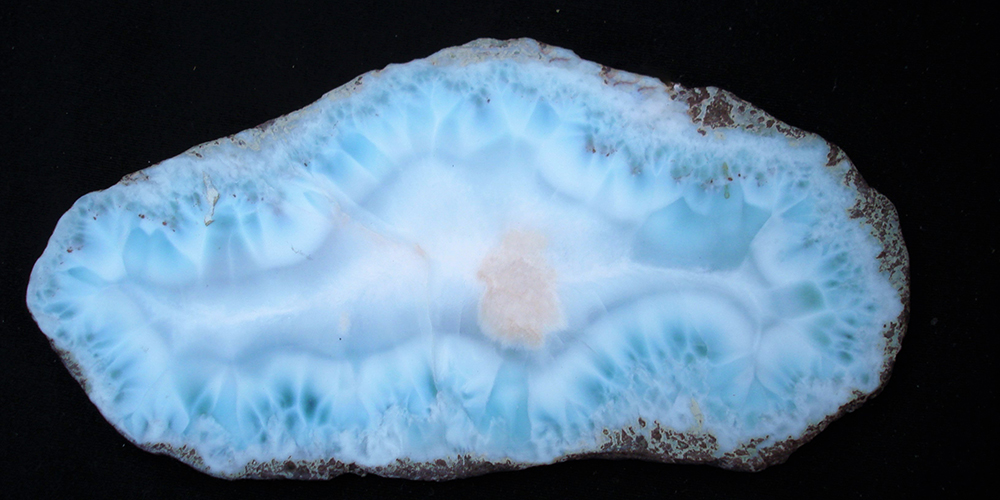 By Helen Serras-Herman
It is with great sadness that I am writing this memorial about our longtime friend Charles Mark, known to all of us as Charlie, who just passed away.
Charlie was a wonderful, kind, generous man, with a passion for gems, in particular larimar, the unique gemstone that he was so instrumental in making known to the world.
Larimar is the trade name for the beautiful and rare gem, the blue variety of the mineral pectolite, mined only in the Dominican Republic.
A look back
Charles Mark graduated from Stranahan High School in Ft. Lauderdale, Florida, in 1967, and went on to Greenbrier Military School in Lewisburg, West Virginia. He continued his studies at the College of San Mateo and UC Berkeley Extension. He married his sweetheart, Pat, in 1968.
Back at Ft. Lauderdale in 1975, he worked as an entrepreneur, but after an airplane accident in 1980, he entered the gem and mineral business.
He travelled the world, including Colombia, Thailand, Hong Kong, India, and the Dominican Republic, a place in which he would be tied to for the rest of his life.
larimar crystal gemstoneIt was in 1982, after visiting the larimar mines of Bahoruco, Barahona, about 106 miles southwest from the capital Santo Domingo, Mark became deeply involved with every step of the larimar production, including mining, cutting, educating, and selling larimar around the world.
Although the mineral rights belong to the government, many local miners organized a cooperative, and have entered into a 75-year lease on the mine. Mark became a member and the sole international representative for the Larimar Mines Co-operative, advocating for miners' rights, and helping them promote larimar.
He established his very own company, Mountain-Mark Trading, Co. Ltd, in 1985, and was one of the first wholesale buyers of larimar. Mark continued to be a major buyer until his death.
As a lapidary for 30 years, he also helped build lapidary equipment and teach the miners how to cut and polish larimar.
Left: AAA Larimar slabs, Photo courtesy © Charles Mark. Saturated deep blue color, intense color contrast and high translucency are attributes that bring high value to slabs and cut gems, graded as AAA material. Right: Marine Ray, HSH, Photo © Helen Serras-Herman. Nodules exhibiting radial or concentric color patterns are my personal favorites, as in this pendant, brooch and necklace set in 18K gold with faceted chrysoberyls.
Exhibitions
Mark has been an exhibitor at the annual Tucson gems and minerals shows since 1980, and later at the Denver gems and minerals shows, as well as in Tokyo, Japan and Munich, Germany since 1994, where he received eight awards for his scientific exhibits of "Larimar - Blue Pectolite."
Mark promoted larimar as "The Gemstone of the Caribbean®" and "The Jewel of the Caribbean®." He also supplied specimens and information to authors Dr. Robert E. Woodruff and Emmanuel Fritsch for their in-depth article, "Blue Pectolite from the Dominican Republic" (Gems & Gemology, Winter 1989) and to me for my articles, for which I am very thankful.
He pioneered and hosted the "Nature Science Show" and the "The Larimar Show" from 1996 to 2001, in the early days of the Gem Shopping Network television, educating viewers about this unique gemstone.
While writing my article for Rock & Gem magazine, Charlie shared with me about his meeting in 2013 in Santo Domingo between him, his attorney- Carlos Cornielle, Jose Gomez (the VP of the Larimar Miners Co-operative), Saulo Feliz (mine manager), and the President of the Dominican Republic Danilo Medina, after which, new laws were put in place to protect the larimar miners.
That was a great win for the miners, who had endured fatal accidents over the four decades of mining, with the mines having been plagued by heavy rainfall, especially during hurricane season, as well as rock falls and landslides.
Local miners brave the harsh and primitive conditions inside the mines in search of the precious material.
Thanks to Mark, there have been continuous efforts to improve the working conditions of the mines and the safety of the miners. In 2015, after President Medina pledged his help, a new 400-yard-long tunnel was constructed to aid the miners.
Another great benefit that came out of that 2013 meeting was the government's establishment of a new Jewelry & Lapidary School in Bahoruco, where locals can learn how to cut and polish larimar, and to create jewelry.
One last move to Colorado
Charlie and his family moved to Colorado in 2011, first to Castle Rock, and after three years, to a 90-acre ranch in the pines, at 6,400 feet elevation, in Elizabeth, Colorado. His new home location includes an office and a large lapidary shop. He was excited about this new adventure, and felt comfortable with all the deer in his realm.
He was very proud of his family - his beloved wife, who was always with him at the shows, and his daughter Dawn, son-in-law, grandson and granddaughter.
Helen and Andy with Charlie, at the 2016 Tucson gem shows..
Finale
Charlie and I met during my first trip to the Tucson gem shows in 1997, and I was enamored with his larimar. Over the years I have carved several larimar pieces from that original batch of high-grade rough, and set them into unique jewelry pieces. Charlie supplied to me rough and high-quality larimar beads ever since.
As the years went by, our friendship strengthened. He was thrilled with my articles "Caribbean Larimar" published in Rock & Gem magazine in 2016, and "Loving Larimar" in the 2019 Tucson EZ Guide. We had talked about and were waiting for the right time to visit the mines together. We visited and hugged for the last time this past February in Tucson, a visit that I will always treasure.
My husband, Andy Herman, and I are heart-broken for this loss. Our hearts are with his wife Pat and family in love and sympathy.
Charles Mark, with ICA Director Japan, Captain Ramji Sharma.
Charlie was loved by everyone in the trade, demonstrated by the countless heartfelt comments left on his Facebook page immediately after his passing. His integrity, fairness, kindness, and willingness to share his knowledge, helping miners and lapidaries, should be the benchmark for any gem dealer.
He was called "The Larimar King" and we all know why.
Charlie will be dearly missed by all of us. We visited again and hugged for the last time this past February in Tucson.
I know that his spirit will forever live in all of my larimar pieces.
Helen Serras-Herman, a 2003 National Lapidary Hall of Fame inductee, is an acclaimed gem sculptor with over 38 years of experience in unique gem sculpture and jewelry art. See her work at www.gemartcenter.com and her business Facebook page at Gem Art Center/Helen Serras-Herman.
Top Image: Larimar slabbed specimen, Photo Helen Serras-Herman. Beautiful, museum-quality, large slabbed specimen of larimar, with full perimeter in basalt and a calcite inclusion in the center, on display at the Mountain-Mark Trading Co booth during the 2016 Tucson gem show.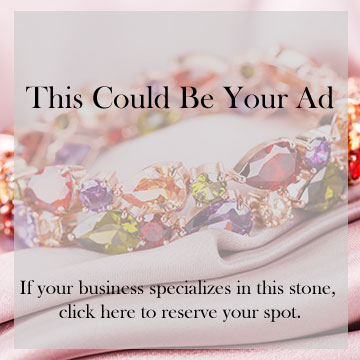 Gem by Gem