Lapis Lazuli
Lapis lazuli: solid as a rock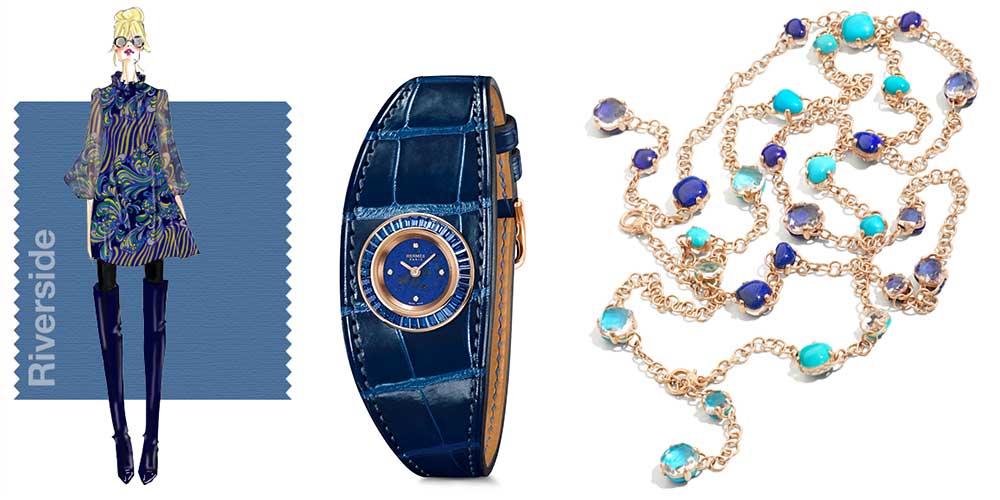 From ancient cultures to today's fashion runways, lapis lazuli has long been prized for its intense color.
by Carol Besler
Exotic and Mysterious
There is no color more present in fashion today than blue in its many hues and tones. Three of the Pantone Color Institute's top colors for fall 2016 are shades of blue. Denim is making a comeback, and blue of every shade is rocking the fashion runways. So while lapis lazuli may not be among the most prestigious (or expensive) precious gems, it has been prized for its intense, highly saturated color since antiquity.
Lapis was among the first gemstones ever to be worn for adornment. It was valued by the ancient cultures of Mesopotamia, Greece, Rome, Egypt and Persia, where it was believed to have magical healing powers, and it symbolizes friendship and truth.
From the Middle Ages until only recently, lapis was ground into powder and made into ultramarine, a blue pigment highly prized by artists of the Renaissance and Baroque periods, including Masaccio, Titian and Vermeer, whose famous painting, "Girl with a Pearl Earring" is distinguished by a striking depiction of a head scarf painted using ultramarine, a natural pigment made from lapis lazuli. Today, we have other ways of making dyes, and the blue pigment made from lapis lazuli is used mainly in restoration work, but the gem is still appreciated for its remarkable color.
Lapis lazuli is the true unisex gem
It is equally at home in statement pieces for women as it in cuff links for men. Many designers who work with color use high quality pieces of lapis for one-of-a-kind necklaces, rings and earrings – Italian jewelry designer Marco Bicego recently introduced a new version of his popular Lunaria collection entirely set with faceted lapis lazuli.
It has also become a staple gem of men's jewelry collections, perhaps because of its status as a rock – lapis is an aggregate, opaque gem, and is therefore perceived as strong and hard, and therefore acceptably masculine. (In fact, lapis is not very hard at all. At between 5 and 6 on the Mohs scale of hardness, lapis lazuli is not among the hardest of gemstones, but if it becomes worn, it can be easily repolished.)
1 thru 4. Design from the Lunaria Lapis collection by Marco Bicego.
As a rock, lapis lazuli is an aggregate of several minerals, including lazurite, calcite and pyrite. The blue color comes from the sulphur content of the lazurite and ranges from pure ultramarine to a lighter blue. The prized gold matrix running throughout is due to pyrite inclusions which, unlike most gemstone inclusions, actually increase the value of the gem. That said, too much pyrite can make it look dull and green, and will decrease its value.
Most lapis also contains white calcite, which is the host rock that surrounds the gem, but the less calcite the better in terms of value. Lapis may also contain blue sodalite and traces of augite, diopside, enstatite, mica, hauynite and hornblende. The color can range from deep violet blue and royal blue to turquoise or greenish blue.
Lapis is usually cut into cabochons, inlays or tablets, but it also makes beautiful beads because of the matrix, which adds dimension and a natural quality. It is popular for cuff links, bracelets and signet-style rings for men, and occasionally as a dial material for high-end watches. Piaget and Hermès are among the brands with recent models set with lapis lazuli. Because it is found in large pieces of rough, lapis has historically been used to carve objects as well, including bowls, vases, boxes, hair combs, dagger handles, small statues and game boards.
Care
Lapis lazuli is often sealed with colorless wax or synthetic resin, a process that improves the stone's wearing qualities. The stone should always be protected from acidic substances, and it should not be exposed to too much sunlight.
Origins
Northeast Afghanistan and Pakistan are the major sources of lapis lazuli. The mines west of Lake Baikal in Russia are also a source, as are the Andes mountains of Chili. Smaller quantities are mined in Italy, Mongolia, the United States and Canada. According to the Gemological Institute of America, Afghan lapis is intense and uniform in color, and medium dark or slightly violetish blue. It contains little or no pyrite and no calcite.
Russian or Siberian lapis is found in various tones and intensities of blue, and contains pyrite as well as some calcite. Chilean lapis is often tinged or spotted with green and has an obvious calcite matrix. In good qualities, with intense, deep blue color, lapis is rare, so pieces set with the gem can vary widely in price from luxurious to quite inexpensive.
Etymologically, lapis has also been very useful. It comes from the Latin word for "stone" and lazuli comes from the Latin word lazulum. Because of its intense color, however, lapis lazuli is itself the root of the words for that color in several languages, including the English word azure, French Azur, Italian azzurro, Polish lazur, Romanian azur and azuriu, Portuguese and Spanish azul and Hungarian azur all come from the name and color of lapis lazuli.
1.Girl with a Pearl Earring, (1665) by Johannes Vermeer, is painted with ultramarine, a natural pigment made from lapis lazuli. 2. Men's lapis and sterling silver pendant by Stephen Webster.
Top image: 1. Riverside blue is one of the top ten colors for fall 2016, according to the Pantone Color Institute. Timepiece with a lapis lazuli dial, from the Faubourg Manchette collection by Hermès. 3. Necklace with lapis lazuli, turquoise and rock crystal, from the Capri collection by Pomellato.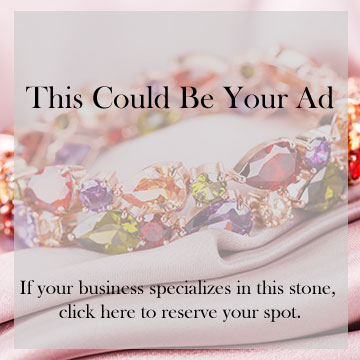 Gem by Gem