Report by ICA Board Director Henry Ho, Thailand
Date posted
January 29, 2019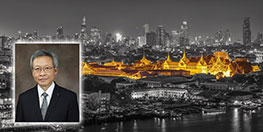 Report by ICA Board Director Henry Ho, Thailand

Report by Henry Ho
ICA Board Director, Thailand
Thailand continues to rise as a leading international player in the world of colored gemstones. The recent announcement of various trade events in Bangkok certainly suggests demand for colored gemstones will rise over the coming months. For instance, we begin to see a growing demand from multinational companies looking to expand into the Asian market in Thailand.
Reputable companies such as Bonas, one of the world's oldest leading international diamond tender houses with over 140 years presence in the diamond business, is building its credentials and expertise in this sector by holding its first ever colored gemstone tender in Bangkok with joint support from Asia Gem Center (AGC) and the Jewelry Trade Center (JTC). This event will coincide with the Bangkok Gems & Jewelry Fair (BGJF) and will feature an exclusive range of colored gemstones.
Meanwhile, Thailand's gemstone market continues its steady growth for finer qualities and at a slower pace for the commercial sizes and varieties. Prices have risen meteorically for cut rubies from Myanmar and at least 20% higher across the board as reported by reliable dealers of cut rubies from Mozambique. The current sentiment is that rough Mozambique rubies are firmly maintaining higher prices and dealers are in a holding position, hoping the demand catches up to a level reflected by the latest rough ruby auction results by Gemfields.
Sapphires of fine qualities remain scarce. Availability and supply for the "ideal cornflower" are few and far between, achieving record prices per carat at recent international auctions. Many gem dealers "shopping" gem laboratories in hopes of receiving the "preferred origin" as the determination of a gemstone's gemological provenance remains a "controversial" and unsettling topic of discussion.
ICA member, Charles Abouchar, an international, long-standing and highly-esteemed gemstone expert, has recommended, through CIBJO, that the laboratories separate "factual" and "opinionated" information clearly in their reports. This suggestion is a positive step towards improving the "integrity" of the gem report as a communication tool and a better document for its users.
Spinels are ever stronger in demand, however, insufficient supplies of cleaner and better colors keep this gemstone a highly desirable and rare collector's gem of choice for the long and the short term. The lack of finer reds, pinks and violets are driving the prices of grey spinels to higher and higher peaks.
On the other hand, manufacturing goods in calibrated sizes are shifting and buyers are more selective in their picks with tsavorite, tanzanite, aquamarines being a staple item.
The USA market is on the up with China in a plateau for most goods, with demands for larger, cut rubies over 5 carats and above.
The global scene for colored gemstones has changed and developed rapidly since the first and second ICA Congress in Thailand held in 1987 and 2004. As Thailand takes the immense honor of hosting the next ICA Congress in October 2019, the Congress will become an important channel to further promote and leverage Thailand's capabilities as the World's Gems and Jewelry Hub. The year 2019 appears to be exciting for Thailand, as the country takes on the international spotlight.
Henry Ho is the founder and Chairman Emeritus of the Asian Institute of Gemological Sciences (AIGS), and also the founder and President of the Jewelry Trade Center in the heart of Bangkok's business district.