Report by ICA President Clement Sabbagh
Date posted
December 6, 2018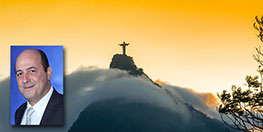 Report by ICA President Clement Sabbagh

This year of 2018 has been quite a significant and busy one for ICA as our Association has been involved in many industry initiatives worldwide.
Just in the past few months for example, in October we were invited by FEDESMERALDAS and ACODES to be part of the II World Emerald Symposium in Bogota, Colombia. It was quite an impressive event with speakers and delegates from all emerald-producing countries as well as representatives from major consuming nations such as India, China, Thailand, USA, Canada, Germany, Italy, France, UK and Australia. ICA participation was strong with 5 Board members and numerous members of the Association from all parts of the globe.
It was remarkable to have together so many leading professionals of our industry to not only discuss the present and the future of emeralds but to also set standards and priorities for our industry for the coming years.
Needless to say, our gemstone business is often a target for questioning, from its mining operations to overall concerns on its practices and how responsible we really are to the world. ICA was there not only to present itself and its initiatives to the industry but to also address questions and to ease any concerns of consumers when it comes to Sustainability. It's important to assure the world that our industry is not only aware but committed to promote responsible businesses.
Following the participation at World Emerald Symposium, ICA also took part at the World Jewellery Confederation's annual congress also held in Bogota. A number of important meetings and discussions were held during both the Symposium and the CIBJO Congress and ICA is actively working together with institutions such as OECD and fellow associations AGTA and CIBJO to further advance on initiatives to foster fair, honest and the transparent trade of colored gemstones.
November was also a month of great industry initiatives, starting with the Technological Seminar for the Jewelry Sector held in Rio de Janeiro, Brazil. The event focused on addressing fundamental issues for the development of the sector in Brazil, the difficulties that are preventing the country from growing and the result was the creation of a document with effective proposals to be presented to the next governmental leaders of Brazil. ICA was not only part of the discussions but also a co-promoter of the event as it is in the core of ICA's priorities to support discussions, address challenges and to brainstorm solutions to facilitate the international trade of colored stones.
At the end of November, ICA was also part of the Guangzhou China International Jewelry & Diamond Conference, a very important invitation from the Guangdong Gems & Jade Exchange. I was able to address the many challenges we face in China and to propose to work together with ICA towards programs for even more successful businesses. At the Conference ICA also launched the very first edition of InColor magazine in Chinese. This represents a major international link and breakthrough for ICA and China, and the beginning of a new era. I particularly want to thank GGJE and our ICA director in China, Mr. Chen Shen for their great support and efforts in putting together this initiative.
Beginning in 2019 at the JCK show for our first ever ICA Pavilion, and continuing with all future ICA trade show pavilions, exhibiting members will be contributing to our recently established fund called "Gems Keep Giving Fund". Through this fund, ICA will be actively looking to help improve the livelihoods of the many small artisanal miners and their families who account for more than 80% in our industry. They are very important partners in our industry and yet they are living in communities less fortunate than ours.
Monies raised in the "Gems Keep Giving Fund" will focus on possible assistance with safety procedures, methods, training, education, social welfare and protection of their environment.
This Fall season has certainly been very busy and productive. We are now making plans for even greater participation in the 2019 global promotion and support for the Colored Gemstone Industry.
And finally, I would like to wish you all the very best this holiday season! May it be the best ever!