ICA Ballroom at the JCK Las Vegas Show, May 30 - June 3, 2019

ICA Ballroom at the JCK Las Vegas Show, May 30 - June 3, 2019
JCK Las Vegas to Debut Global Gemstone Neighborhood with ICA
The new Global Gemstone Neighborhood will be introduced at JCK in May 2019. The 8,300 square-foot neighborhood is inclusive of the member exhibitors of the International Colored Gemstone Association (ICA) and a dedicated ballroom for Fine Gems, spanning five exhibition areas for gemstones.
"The ICA colored gemstone marketplace/exhibition at JCK Las Vegas offers something for all jewelry professionals for various facets of their business, whether they are a designer or a retailer who does custom work in-house," says Clement Sabbagh, ICA President. "Every ICA member adheres to a strict code of ethics and standards from mine to market, with responsible sourcing of natural colored gemstones, as well as full written disclosure of any known treatments or enhancements to a gemstone. This type of responsibility and transparency ensures the respect, reputation and esteem of the fine jewelry industry and builds both consumer confidence and trust."
For convenience and ease of navigation, the Global Gemstone Neighborhood will span five locations in close proximity on Level 1 of the Show Floor, Hall G, Sands Meeting Rooms and three consecutive ballrooms. ICA members will exhibit in the Casanova ballroom; Fine Gems will be housed in the Marco Polo ballroom, and additional U.S. and international gemstone vendors will exhibit in the Galileo ballroom, the Sands Meetings Rooms and Hall G.
The Global Gemstone Neighborhood opens on Thursday, May 30, 2019 and remains open throughout the JCK Las Vegas show (Friday, May 31 - Monday, June 3).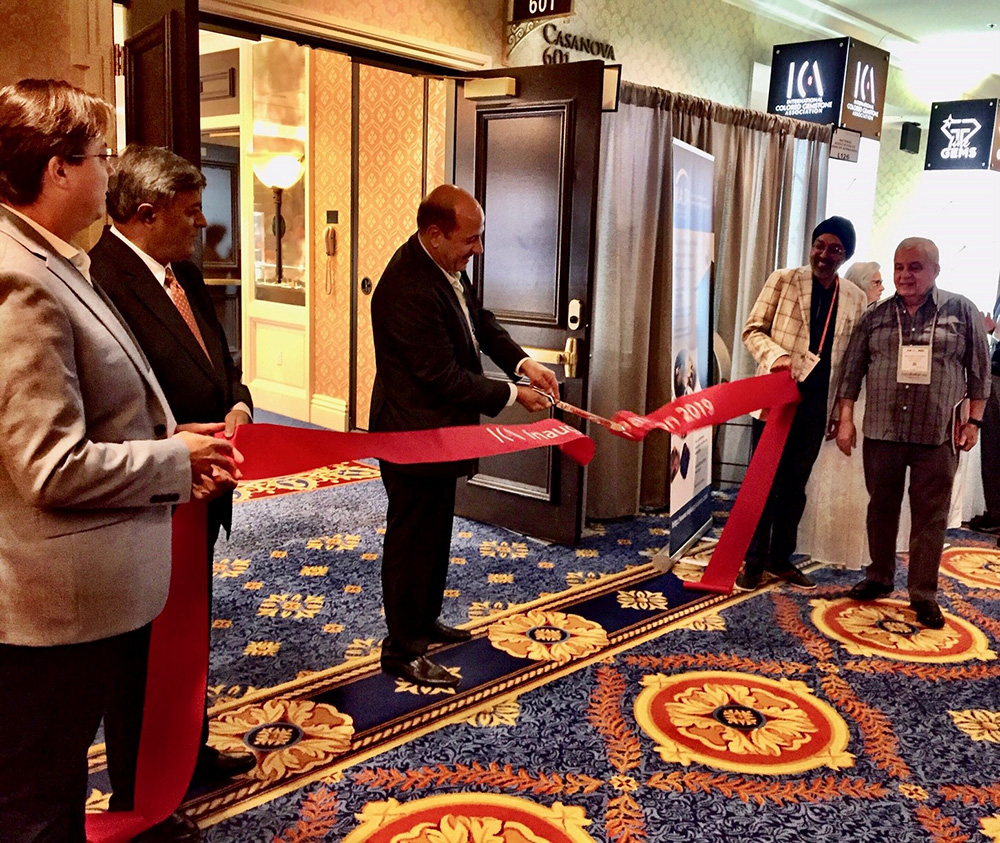 May 30th, official inauguration of ICA's first Ballroom at the JCK Las Vegas Show. Left to right: Marcelo Ribeiro, ICA Treasurer, Captain Ramji Sharma, Japan Director, Clement Sabbagh, ICA President; Santpal Sinchawla, Secretary & 2019 Congress Committee and Benjamin Hackman, Past President.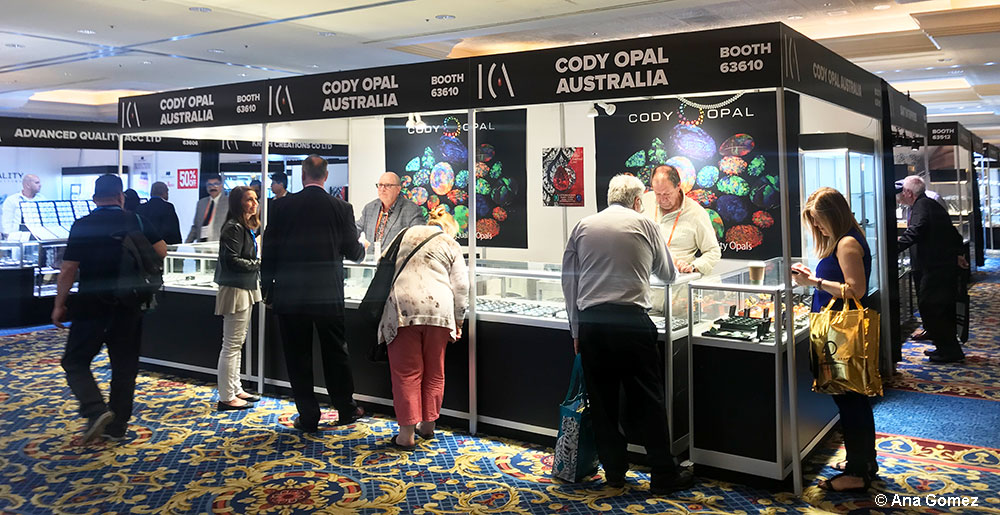 Cody Opal booth with penty of interested customers.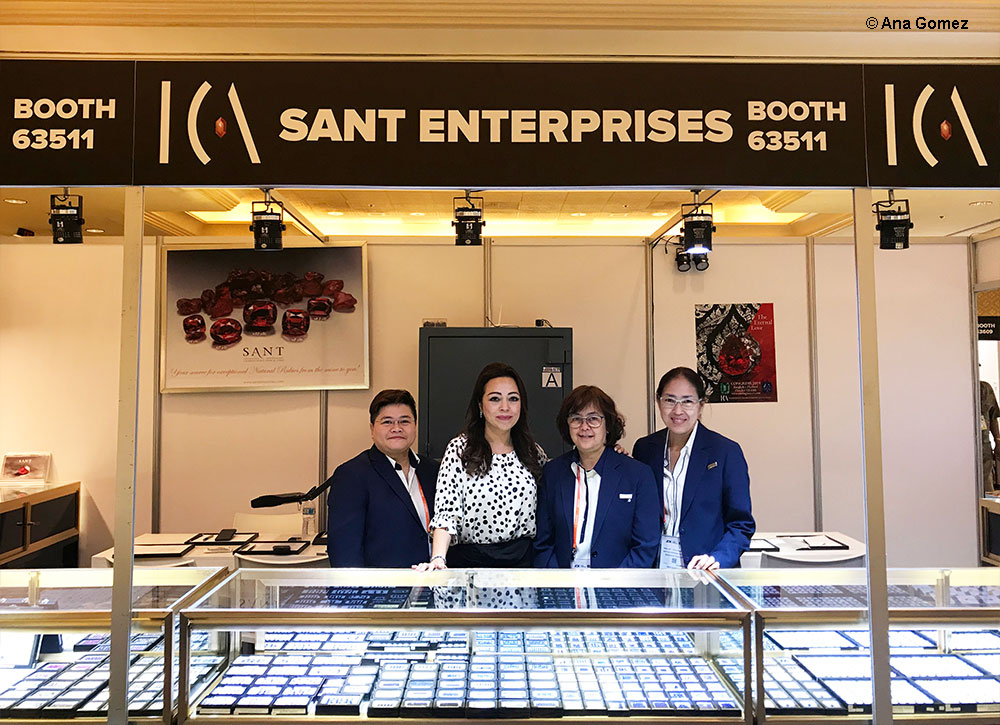 Sant Enterprises with its vast selection of sapphires and other precious gemstones. Standing in the center: Ashoo Sinchawla, 2019 Congress Committee.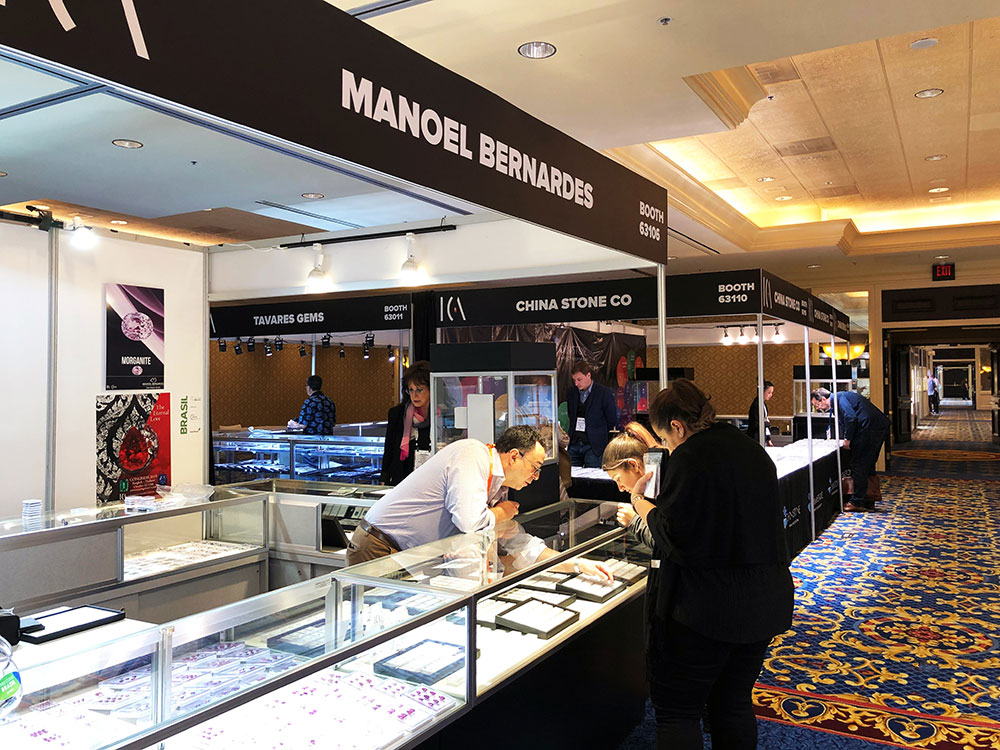 Manoel Bernardes exhibiting Brazilian treasures!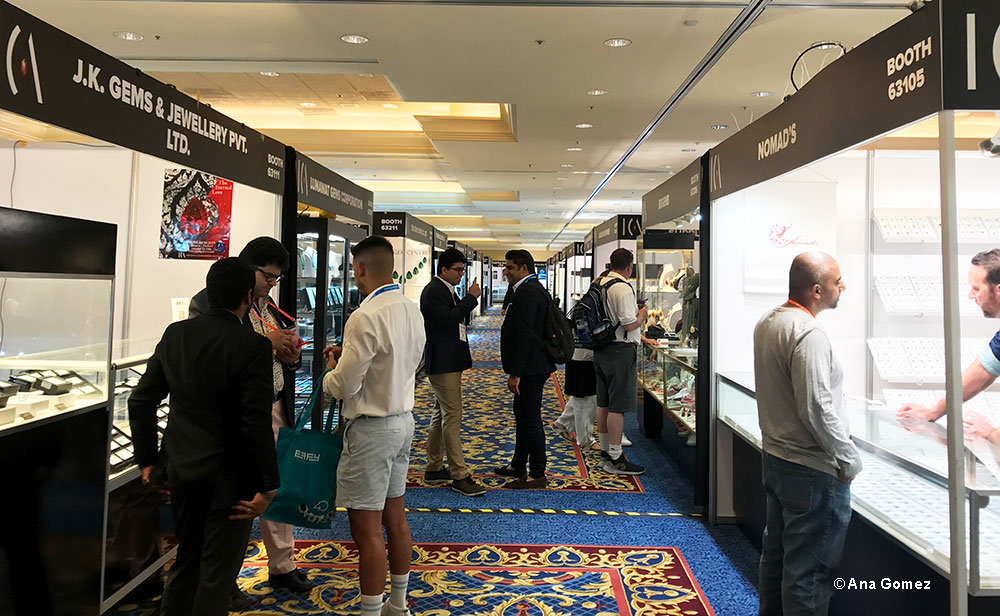 ICA's ballroom was an opportnity to show the American market the scope and range of colored gemstones avilable from the ICA members.
The exhibitors were:
| | |
| --- | --- |
| Abouchar S.A. Diastar | 63411 |
| Advanced Quality ACC Ltd | 63606 |
| Anjali Jewels | 63506 |
| BBGEMS | 63206 |
| Belmont Mineração Ltda | 63512 |
| BGC Brazil Gem Commerce | 63103 |
| Blue Gems Supplier | 63205 / 63207 |
| BSB , Ben Sabbagh Bros. | 63602 |
| ChinaStone | 63110 / 63112 |
| Claudia Hamann Edelstein GmbH | 63306 |
| Clifton Opal Pty Ltd | 63312 |
| Cody Opal (Australia) Pty Ltd | 63610 / 63612 |
| CTC & CO by Miranda Group | 63603 / 63605 |
| Duarte & Bastos Ltda | 63611 / 63613 |
| Enchanted Designs Ltd. | 63604 |
| Fine Gems Collection Co Ltd | 63310 |
| Garaude | 63410 |
| Gem India Exports | 63303 / 63305 |
| Gem Stones Ltd | 63407 |
| Gems by Nomads | 63105 / 63107 |
| Gemstones Corporation | 63311 / 63313 |
| Hopkins Opals | 63213 |
| ICA | GemLab | L123 |
| JK Gems & Jewellery Pvt Ltd | 63111 |
| JS Gems Ltda | 63007 |
| Komatsu Cutting Factory | 63504 |
| Krish Creations Co Ltd from Bangkok | 63505 / 63507 |
| Lunawat Gems Corporation | 63210 / 63212 |
| Manoel Bernardes Com. E Ind. Ltda | 63106 |
| Moragen Co Ltd | 63302 |
| Nash James Enterprises | 63502 |
| Noor Gems Japan Co Ltd. | 63510 |
| Peter Valicek Gems Ltda | 63113 |
| Potentate Mining LLC | 63203 |
| Ramos & Campos | 63104 |
| Rocks N Beauty Ltd Hong Kong | 63503 |
| Sant Enterprises Co Ltd | 63511 / 63513 |
| Sapphire Creations | 63413 |
| Seven Fine Gems | 63403 |
| Sparkles and Colors USA Inc | 63406 |
| Sunlight Gems | 63402 / 63404 |
| Sunny Gem Co | 63307 |
| Tavares Gems | 63011 / 63013 |
| Thai Gem Centre | 63211 |
| The Opal Corporation | 63102 |
| True Blue Opals Pty Ltd | 63412 |
| Yes Hajaa Gems | 63609 |