Report by ICA Ambassador to Australia Terry Coldham
Date posted
March 14, 2019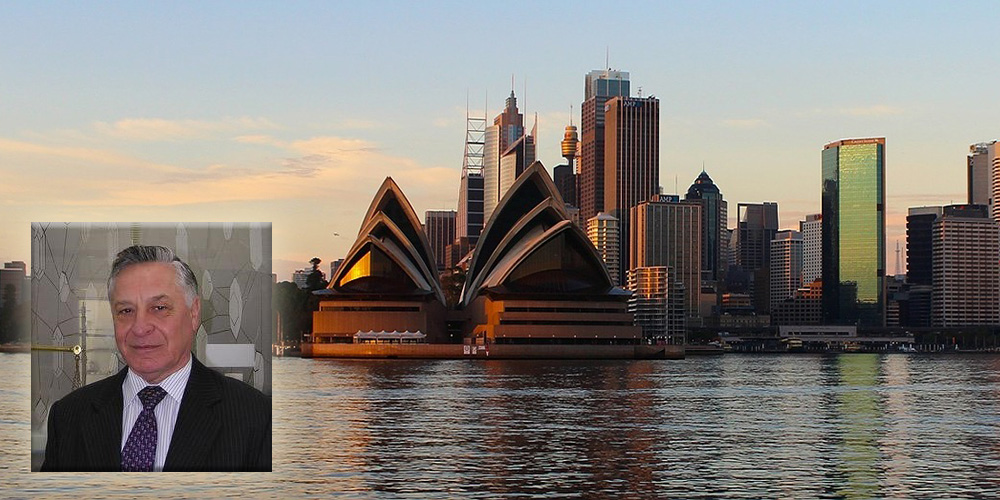 Report by ICA Ambassador to Australia

Report by Terry Coldham
A presentation on behalf of the Australian Opal Industry was made at the GILC meeting in Tucson 2019 on a proposed revised classification system for opal. (InColor Winter 2019, Benjamin-Thomas). It is the culmination of considerable thought and discussion by a cross-section of those involved in the Australian opal industry. A similar presentation was made at the last CIBJO meeting. It is proposed that this revised classification be used as the basis for an internationally accepted classification of opal and form a model for the classification of other gemstones.
FIELD REPORTS
Australian Opal
Lightning Ridge New South Wales: Production from the Lighting Ridge fields has been consistent over the last three years. Demand for both rough and cut has steadily increased giving rise to the perception that production has decreased, which is not the case. It has remained steady. Miners are increasingly processing their better stones and this, as well as selling through Internet channels, is reducing the quantities of rough marketed on the fields.
**The whole Lighting Ridge opal reserve encompasses some 5000 square kilometers of which some 3000 square kilometers are potentially opal-bearing. Less than 1% has ever been placed under mining title and 50% remains unexplored. Currently, there are some 3200 mineral claims, however, they are being operated by only 100 full-time and 150 part-time miners with perhaps a further 200 hobby miners. It is very difficult for any estimates of total production to be made, although rough estimates indicate that the field produces some 40 to 45 million dollars of opal annually based on field prices.
**Tourism is up and playing a very important role in the economics of "The Ridge." It is estimated some 100,000 visited the fields during the last year. The increased interest can be put down to the efforts of the Lightning Ridge Tourism Association and TV shows such as "Out Back Opal Hunters," "Back Roads" featuring life on The Ridge. Another important factor is the activity of The Australian Opal Centre encouraging interest in a variety of ways including educational activities such as their very popular "Fossil Dig" (InColor Winter 2019, Brammall). The Australian Opal Centre has been promised $9.5M from Federal, $7.5M from State, and $2M from governments. Along with funds promised by the founders and the local community, this means that $20M is now available to complete stage one of this iconic project.
White Cliffs New South Wales: These fields are very quiet at present. While there are some 150 to 200 claims registered, most are worked by retirees and hobbyists. There are only three or four serious miners who have no trouble selling whatever they produce. Currently, due to Native Title considerations, new claims are not being registered. It is hoped that this situation will be resolved soon. Like most other fields, tourism is becoming increasingly important and the community makes special efforts to welcome them. White Cliffs is famous for occasional finds of opal "pineapples." Some spectacular examples were found in late 2017 and attracted a lot of attention in Tucson this year.
Coober Pedy South Australia: This field continues to produce good quality opal. Although production is down due to a lessening number of new and especially younger miners working the fields, demand for rough is high. Whatever is produced can be sold. There is plenty of prospective ground available and the community is encouraging new miners to "have a go." Tourism has always been an important factor for the town. With Lake Eyre being filled with water and the iconic "Ghan" rail trip from Darwin to Adelaide making stops at Coober Pedy, it is expected that tourism will increase in 2019.
Andamooka South Australia: Production remains steady with 30 to 40 full-time and part-time miners. New miners are being encouraged to mine opal in their days off from working at nearby large-scale non-opal mines. Although only few buyers visit the fields, there is no problem selling production. This is mostly done through Coober Pedy or miners' regular buyers in Adelaide and/or overseas. Some 5000 tourists, mainly in the form of "Grey Nomads," visit the fields annually between April and October.
Mintabie Fields South Australia: These fields were once the largest producers in Australia, but are now reduced to just a few major operators and part-time miners. The South Australian government announced in 2018 that the town was to be closed, although opal mining could continue. At this time, there is quite a bit of uncertainty in respect to what Mintabie will produce in the future, however, those who are there continue to lobby government of the life of this amazing field.
Queensland Boulder Opal Fields: During the summer of 2018-19 the area encompassing the Queensland opal fields was especially hot, causing a decrease in activity over recent months. Demand has been consistent with buyers from Australia and overseas visiting the various fields. The popularity of boulder opal has been steadily increasing over the last several years and looks to continue over the next twelve months.
Yowah and Koroit: Renowned for "opal with character," these fields continue as steady producers of boulder opal. Production is down a bit at present due to the complexity and costs of the tenure process, thus making new claims difficult. Demand for rough is good from both fields. At Yowah, there are about 10 permanent miners, and during winter months, this number increases with the arrival of "hobby" miners. As with other fields, tourism plays an important part in keeping the town alive.
Quilpie, Winton and Longreach: These townships are the centers for a number of large scale open-cut opal mines scattered over many thousands of square kilometers. In recent times, heat and lack of water have been a problem. It is expected, however, that production will continue as conditions cool down. Demand for rough continues.
During 2019, there will be a series of opal events and visitors are always welcome. For further information visit:
https://www.opal.asn.au/opal-information/australian-opal-show-circuit/
20 – 21 April 2019: Coober Pedy Gem Trade Show
12 – 13 July 2019: Winton Opal Trade Show
20 – 22 July 2019: Yowah Opal Festival
24 – 27 July 2019: Lightning Ridge Opal Festival
1 – 2 August 2019: Australian Opal Exhibition Gold Coast
August, TBA, 2019: Anakie Gem Fest
Australian Sapphire
In the decades from 1965 to 1985, Australia produced very large quantities of rough sapphire from the operations of both large mechanized miners and smaller hand miners. Almost the entire production was sold to visiting buyers from Thailand, who flocked to the fields in droves. Those days have gone and now production from the sapphire fields in both Queensland and NSW has been reduced dramatically. Almost all of the rough produced these days is still sold for processing offshore. There is a small, but skilled number of lapidaries cutting in Australia mainly for the local market, but with its small population, Australia is not a large market for cut stone. Sapphires, in particular, fancy colors such as teal blues and greens and yellows have always been popular. In recent years, there has been a steady increase in international demand for these colors as well.
Queensland: On the Queensland gem fields, centered around the villages of Rubyvale and Sapphire, there are at least four large scale mechanized operations, although presently only two are operating. One of the large mining operations ceased recently for re-financing and may restart in the second half of this year. The others are on standby due to a lack of water. There are many small operators both underground and above ground. It is hard to estimate how many, but a couple of hundred at least. Many are retired, hobby miners or even tourists.
**Still a handful of Chinese and Thai buyers visit the fields to buy what they can. The larger miners deal directly with their regular buyers. Locally, the prices for rough have remained quite steady for a few years, whereas cut stone prices have increased steadily. The immediate future for the fields looks stable. There continues to be good demand for well-cut Australian sapphires. It is estimated that some 15,000 tourists visit the fields annually and the income derived from their stays is of great local importance.
**In Far North Queensland is another lesser known sapphire field called Lava Plains. During 2016, prospecting and sampling operations were carried out with mixed results. Some of the blue sapphire is of especially good quality, although quantities recovered were sub-economic. The mine remains on a care and maintenance basis while testing and evaluation continues.
New South Wales: There is little production from the fields of Northern NSW with only one large-scale mining operation that processes and sell its production offshore. Apart from this company, there are only a few small miners and hobbyists working on the fields.
Ornamental Gem Materials: Australia is a major producer of ornamental materials such as mookaite, opalite, jasper, tiger eye, petrified wood (including peanut wood), agate, chrysoprase and prehnite. All are currently being mined and, in most cases, exported as raw material to the lapidary industry around the world. Until recently, the main market was China, however, demand there has dropped off in recent times and new markets such as India are being explored.