ICA Congress 2023 A Successful Event
Date posted
March 14, 2023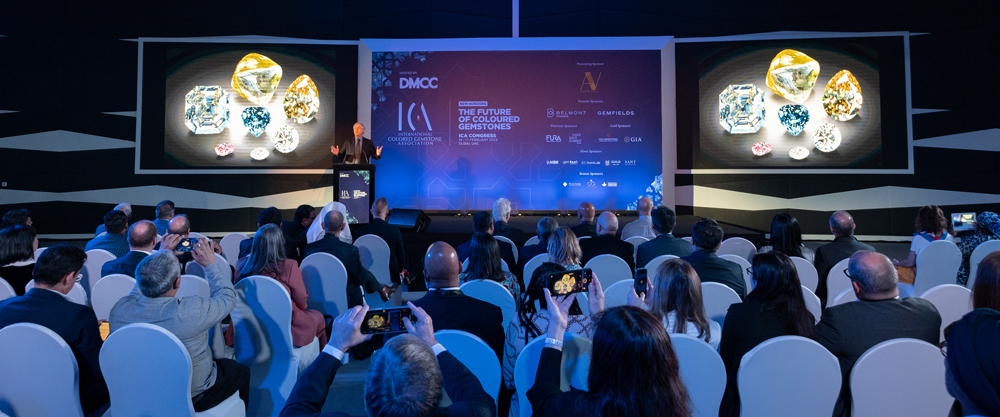 The International Colored Gemstone Association (ICA) hosted its 19th international ICA Congress, February 14 – 17, 2023 at the Almas Conference Centre in Dubai, UAE. This event, co-hosted by the Dubai Multi Commodities Centre (DMCC), brought over 150 delegates from 25 different countries together in a three-day conference to discuss the "Future of Coloured Gemstones." "After a gap of almost 4 years the colored gemstone industry was able to gather again in Dubai for an outstanding ICA Congress," said new ICA President, Damien Cody, Cody Opals. "None of this could have happened without the support from Mr. Ahmed Bin Sulayem, and his outstanding team at the DMCC, as well as all of our generous sponsors. We thank you all for partnering with us to make it such a great event."
The featured speakers for the four-day event included Dr. Jeffrey Post, PhD, Curator-in-Charge, National Gem and Mineral Collection, Smithsonian National Museum of Natural History; Tom Moses, Executive Vice President and Chief Laboratory and Research Officer, Gemological Institute of America; and Dr. Gaetano Cavalieri, PhD, President, CIBJO – The World Jewellery Confederation. The Master of Ceremonies was Rui Galopim de Carvalho, FGA DGA, renowned gemstone education expert, international lecturer, and author. Topics of the conference ranged from mining, education, diversity, marketing and giving back to the communities where we work.
"We are so pleased with the outcome of ICA Congress," said Douglas K. Hucker, ICA CEO. "You don't often have the opportunity to have so many industry leaders from around the world in the same room. We had miners, scientists, gemstone dealers, educators and more together, creating a unique synergy of learning and sharing. The discussions were insightful, thoughtful and educational to all of us."
Hucker continued, "Our industry has seen a lot of changes over the past few years, and I'm excited about the work that's being done worldwide to strengthen our industry, our commitment to diversity and inclusion and especially our commitment to the communities and environment. We were gratified by the engagement we had from women in our industry, with 15 of our 43 speakers being female. In addition, 25% of attendees were female."
You can view photos from the ICA Congress 2023 here.