Rainbow colored gemstone
Rainbow colored gemstone jewelry is more than just a beautiful, technicolor fashion statement. It's a sign of hope and inclusiveness
By Carol Besler
Whenever I see a rainbow I think of little orphan Annie belting out:
Tomorrow, tomorrow
I love ya tomorrow
You're only a day away!
The rainbow is a symbol of hope and fresh beginnings. A reminder that we should follow our dreams to the end of the rainbow. It's a gift of nature that miraculously appears after rain to signify the end of stormy weather, a journey into the light and toward the promise of better times ahead. Not surprisingly, it has also come to signify gay rights as a popular LGBTQ symbol, serving as an expression of hope for future equality and acceptance. If you are a spiritual person, Christian belief holds that after Noah's ark braved the great flood, God sent a rainbow as a peaceful covenant between Heaven and Earth. Rainbow jewelry can be a way to remind yourself of this spiritual connection. In more modern lore, it symbolizes the Rainbow Bridge, the place in heaven where we are reunited in death with our loving pets who have passed on before us.
These days, a rainbow also represents a call to return to normality after the isolation brought on by the pandemic, and a sense of renewed vigor for all that life has to offer – including the wonderful world of color. There is something energizing about the bright, positivity of the rainbow motif. It's enough to inspire us to get dressed up again to go out and participate in the world.
Left: Penny Previle 18k green gold rainbow sapphire huggie earrings.
Center: Rainbow sapphire Galaxy Crescent necklace by Penny Preville.
Right: Rainbow sapphire Galaxy band by Penny Preville.
Rainbow themed jewelry is, of course, best expressed with colored gemstones, either to match an outfit or to add an uplifting hit of color to an otherwise neutral ensemble. Jewelry designers at every level are embracing the trend, often translated with a liberal application of sapphires, since they come in all the fancy colors of the rainbow – blue, pink, yellow, orange, green and purple. Topaz is another option, which comes in yellow, yellow-brown, honey-yellow, flax, brown, green, red, pink and even purple ... and sometimes it has no color at all. The most popular color is blue topaz, which has been color treated, which is permanent. The rainbow, for the record, is actually comprised of seven colors: red, orange, yellow, green, blue, indigo and violet. Other gemstones mixed together also work: trying combinations of amethyst, tanzanite, tsavorite, pink tourmaline and aquamarine for more takes on the rainbow look.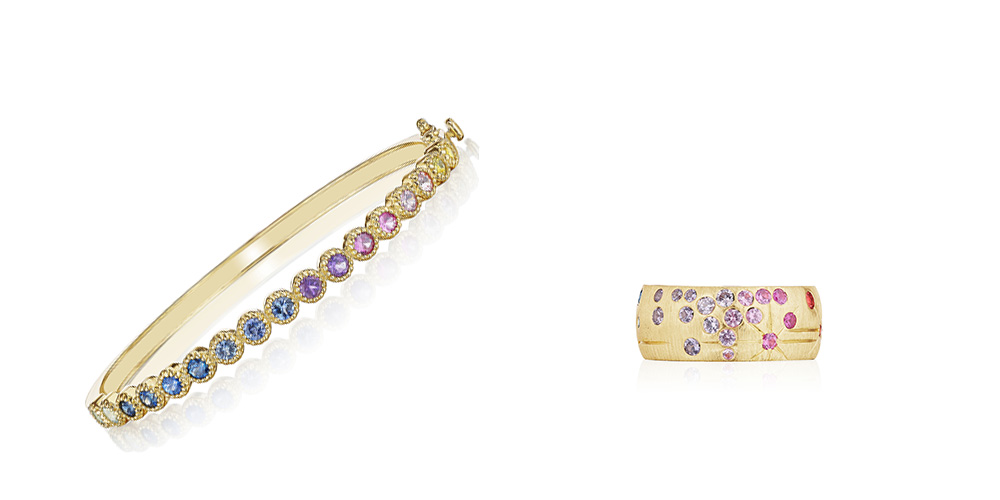 Left: All-around Rainbow bangle by Penny Preville, with sapphire, amethyst, tanzanite and aquamarine in 18k gold.
Right: Rainbow sapphire Galaxy band by Penny Preville.
If you believe in the lore, topaz can add even more meaning to the rainbow motif. It is said to dispel sadness, anger and nocturnal fears, to warn its wearer of poisons and protect them from sudden death. Sapphire, for its part, has been associated with sacred and royal things, and is therefore considered a dignified gemstone. It is believed to provide energy for reflection and insight, inspiring peace, joy, wisdom, and well being, and illuminating the true inner beauty of those of wear it.
Fashion-wise, rainbow colored gemstone jewelry is a strong look that has the power to make a big statement, but if all those colors in one piece make too much of a statement for your mood, try the more dainty, minimalist expressions of the trend with small pendants or earrings. Or tone a rainbow necklace down by layering in plain gold pieces, or stacking a rainbow ring with diamond or plain gold rings.
And given that the rainbow is about hope, inspiration and inclusiveness, remember that rainbow jewelry makes a great gift. It is a thoughtful way to encourage friends and family to stay positive and look forward to good times, recover from the bad times and open themselves up to life's adventures. Even a tiny symbol of hope is a beautiful way to brighten someone's day.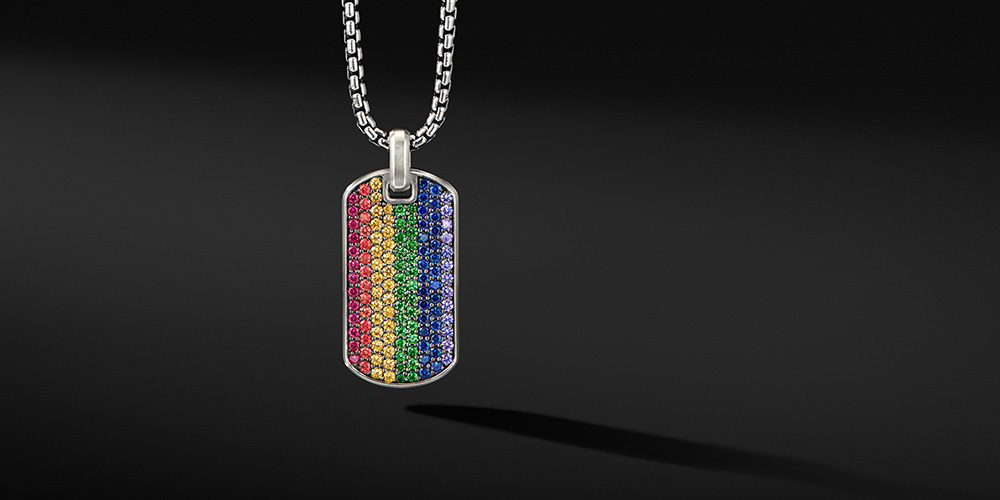 Men's Streamline Tag by David Yurman, with yellow, orange, purple and blue sapphire, tsavorite, and rubies, in sterling silver on a box chain.