The CIBJO Responsible Sourcing Toolkit
FOR IMMEDIATE RELEASE
CONTACT: Steven Benson
+972-52-280-2322
communications_1@cibjo.org
CIBJO launches free online toolkit to assist gem and jewellery companies to undertake responsible sourcing supply chain due diligence
MILAN, ITALY: APRIL 22, 2021— CIBJO, the World Jewellery Confederation, has announced that it has launched an online Toolkit designed to enable all members of the jewellery and gem sector to conduct responsible sourcing due diligence on their supply chains. The digital files of which the toolkit is comprised can be downloaded at no cost from a dedicated mini-website, located at www.cibjo.org/rs-toolkit.
The CIBJO Responsible Sourcing Toolkit supports the CIBJO Responsible Sourcing Book, which provides companies in the jewellery supply chain with a framework and guidance for due diligence for the responsible sourcing of gem materials and precious metals.
The Toolkit was developed for CIBJO by the Coloured Gemstone Working Group, which is a forum of leading gem and jewellery companies dedicated to helping businesses in the coloured gemstones supply chain be more sustainable, and making responsible sourcing part of the way they operate. The work of the Coloured Gemstone Working Group is facilitated by TDI Sustainability, an advisory firm specialising in the jewellery, gemstone and mining industries.
The Toolkit comprises nine modules, each one of which relates to a specific section of the Responsible Sourcing Blue Book. Each module provides a detailed explanation of that section, and also a number of downloadable files, in MS Word or PDF format, which can be used to do the due diligence described. They include templates, forms, sample declarations and additional information.
While the modules are organised in the sequence that the subjects are addressed in the Responsible Sourcing Blue Book, they do not need to be applied in any particular order. However, it is recommended that users complete the first four modules before continuing on to the remaining five modules. These four modules relate specifically to establishing and implementing a responsible supply chain policy, basic supply chain due diligence, and Know Your Counterparty (KYC), both as it relates to anti-money laundering and bribery and facilitation payments.
Most of the tools in the Toolkit can be used with no additional costs involved. A small number will require support of third-parties, and in those cases, the Toolkit lists appropriate alternatives.
"The launch of the CIBJO Responsible Sourcing Toolkit is the fulfilment of a promise to make freely available to all members of the industry the tools required to do essential responsible sourcing due diligence," said Gateano Cavalieri, CIBJO President. "Our position is clear – while all responsible participants in our industry should be provided access to the chain of supply, irrespective of their size or financial capacity, all also are expected to do, to the best of their ability, the due diligence necessary to protect our product, our industry, our customers and our stakeholders. This Toolkit helps them do just that."
"Our thanks go out to all those who brought this to fruition," he continued. "This includes our Responsible Sourcing Commission and its President, Philip Olden, the Coloured Gemstone Working Group, and Assheton Carter and the team at TDI Sustainability."
"The CIBJO Responsible Sourcing Toolkit is a simple and essential resource to help companies of all sizes in the complex and fragmented gem and jewellery supply chains to start the process of supply chain due diligence, which is becoming a fundamental business requirement," said Philip Olden, President of the CIBJO Responsible Sourcing Commission, who headed the project on behalf of the World Jewellery Confederation. "It is a process of continuous improvement. The Toolkit is designed to enable industry members get started, supporting the guidance in the CIBJO Responsible Soucing Blue Book. Companies can then use the Toolkit to systematically improve their level of due diligence to the best of their ability. It will also assist companies in preparing to become certified with a recognised compliance standard, such as that of the Responsible Jewellery Council, if and when they choose to do so."
"The CIBJO Responsible Sourcing Toolkit is the latest addition to a wealth of industry standards, educational and guidance materials and programmes, and also practical tools that CIBJO makes freely available to members of our industry all over the world, to support their businesses and protect the confidence of consumers in our products and our people," said Jonathan Kendall, CIBJO's Executive Vice President. "Our mission is to create a better jewellery industry, equipped to succeed in the 21st Century. Responsible sourcing and supply chain integrity are key to meeting that challenge."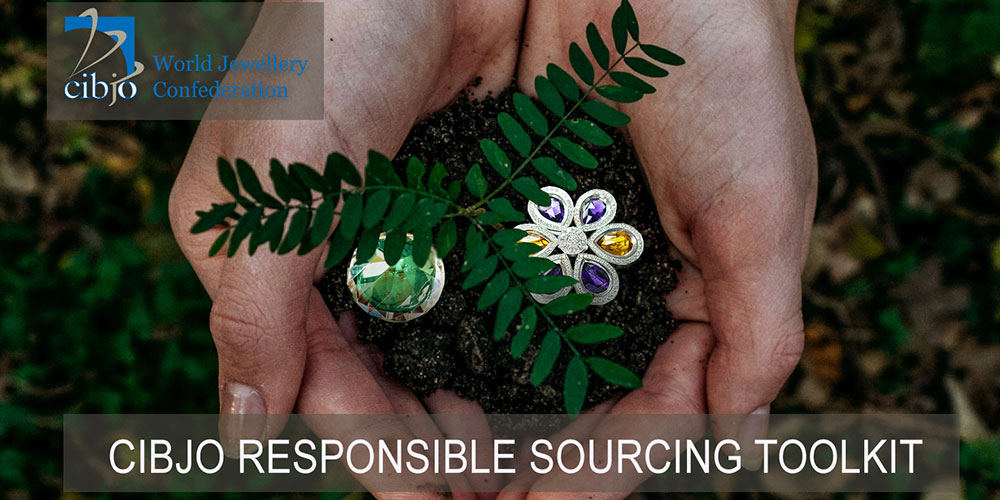 ABOUT CIBJO
CIBJO is the international jewellery confederation of national trade organisations. CIBJO's purpose is to encourage harmonisation, promote international cooperation in the jewellery industry and to consider issues which concern the trade worldwide. CIBJO's chief mission is to protect consumer confidence in the industry. www.cibjo.org