InColor magazine
all about colored gemstones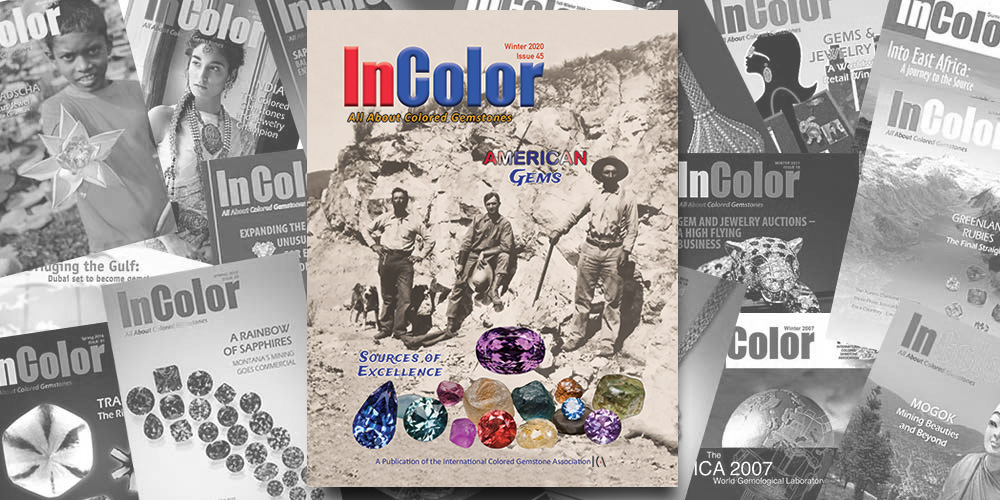 InColor magazine is the ICA's quarterly publication, all about colored gemstones. A must read for anyone in the gemstone and jewelry industry, as well as the gem enthusiast. Easy to read, InColor boasts insider information and top industry news from around the world.
The magazine is aimed at jewelry manufacturers and retailers.
InColor reports on information relating to the gemstone trade, mining, gemology, education, trends, fashion as well as ICA member related issues. InColor us published four times per year, usually with one special issue per year, including a World Gemstone Mining Report published with some frequency. Other special reports and publications include a gemological laboratory services world directory and a special ICA Congress issue.
The magazine is available in print and on-line as well as through a special App.


InColor magazine has become a professional magazine and is used as a trade reference in over 47 countries. It is now self-sustaining with the printing and distribution of 8,000 - 10,000 copies. Recently, InColor is also being published in Chinese with extended distribution in the Chinese gemstone market.
It has developed an editorial line with a standard format and categories that include all segments of the gemstone industry:
Gem mining
Trading
Industry events and shows
Gemology
Jewelry design
Fashion and color trends
Education and gem news as well as ICA news
Initiatives and member activities.
Internationally renowned writers and contributors are invited to publish articles in every issue of the magazine.