High Jewelry: Color Comes to Life
How color makes high jewelry come to life in high jewelry from Cartier and Piaget
By Carol Besler
New collections from Cartier and Piaget illustrate the power of colored gemstones to create optical effects, evoke the senses and create movement in jewelry that seems to have a life of its own. The collections are notable for their spectacular center stones or series of matched gems that took years to source.
This is definitely red carpet or special event jewelry, but the pieces can be appreciated for the beauty of the gems, the cuts and the unique color combinations. All are spectacular specimens in the high art of jewelry design.
Cartier Sixieme Sens
Cartier's new collection is called Sixieme Sens (Sixth Sense), a reference to the way we experience the colors in gemstone jewelry. The gems are chosen to evoke various elements, including ripe fruit, optical illusions and eve the coat of Cartier's iconic panther motif.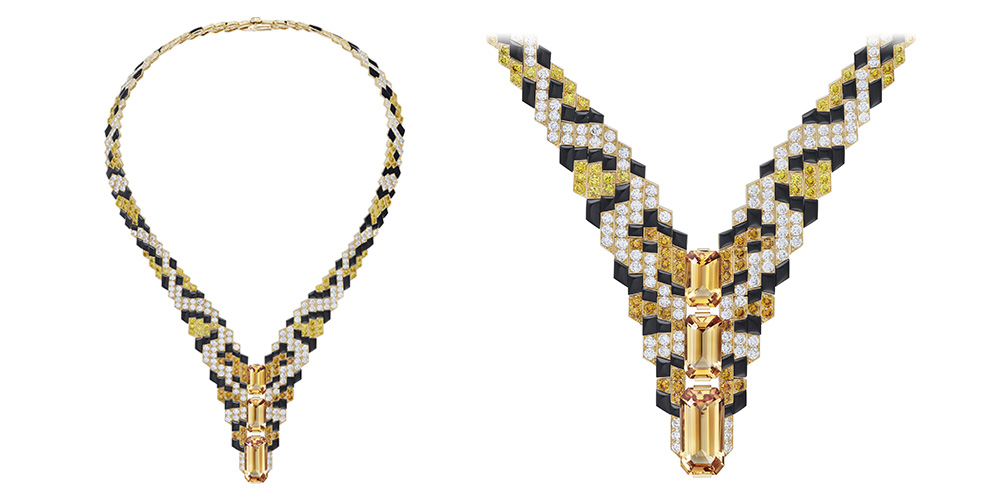 The Pixelage necklace is set with orange and yellow diamonds, punctuated with polished onyx to represent the Panther's spots. The zigzag pattern of the design also resembles a pixelated composition. The necklace is flexible and ends in a V toward the cleavage, where it is adorned with three spectacular emerald-cut golden topazes in incremental sizes.
The Meride necklace is designed in a mosaic-like checkerboard pattern using onyx, rock crystal and diamonds, with each element mounted at a different level to enhance the 3D effect and make the piece seem like it's moving.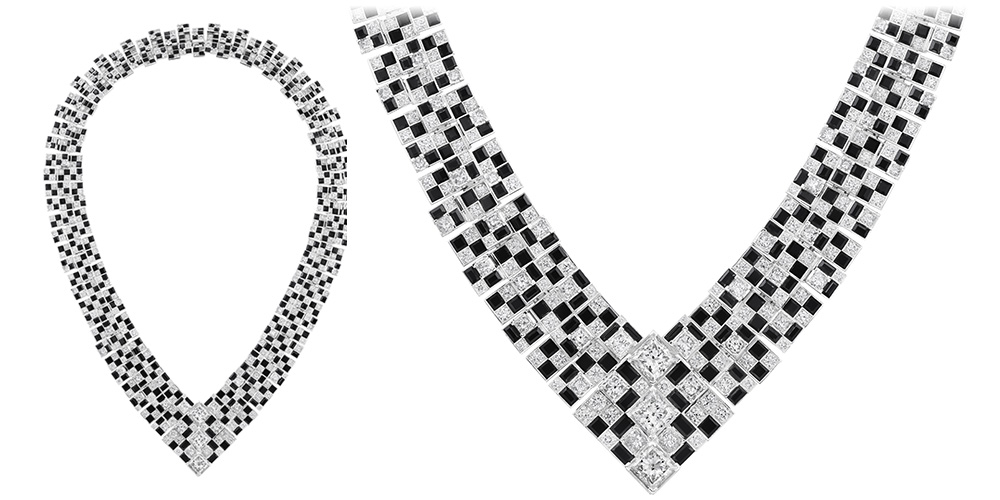 The Phaan platinum ring is centered by an 8.20 carat oval-shaped ruby and in a uniquely tiered construction, a 4.01 rose cut diamond is set directly under it. They are surrounded by a halo of triangular shaped diamonds and beads of rubies.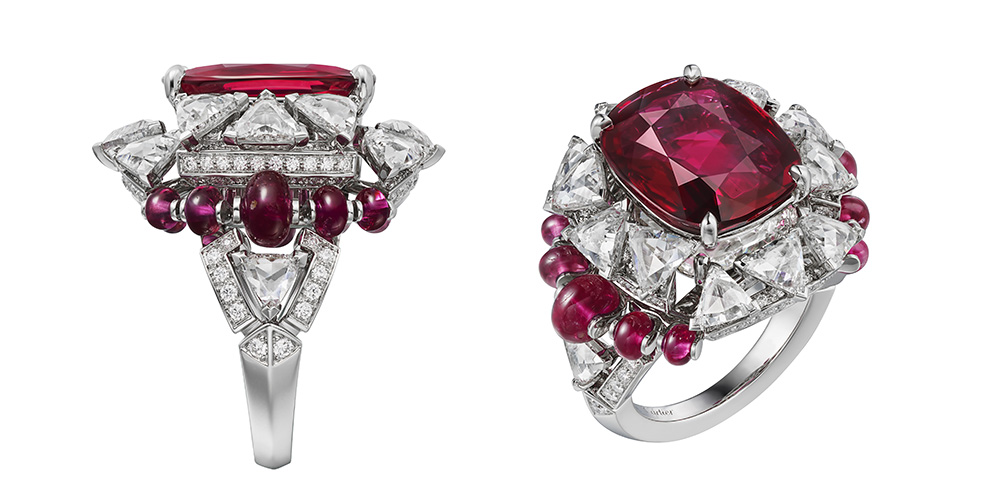 The Parhelia ring is centered by an intense blue 21.51 carat sapphire cabochon. It is surrounded by radiant cut diamonds and emeralds, set in a pattern that fans out over five rows shaped like brackets on each side. Louis Cartier nicknamed this combination of sapphires and emeralds the "peacock motif" at the beginning of the 20th century. Black lacquer is set between each stepped row of diamonds to create a shadow effect and reinforce the impression of movement. The ring spans the width of three fingers, which makes it big enough for a brooch, and in fact it is detachable to be worn as exactly that.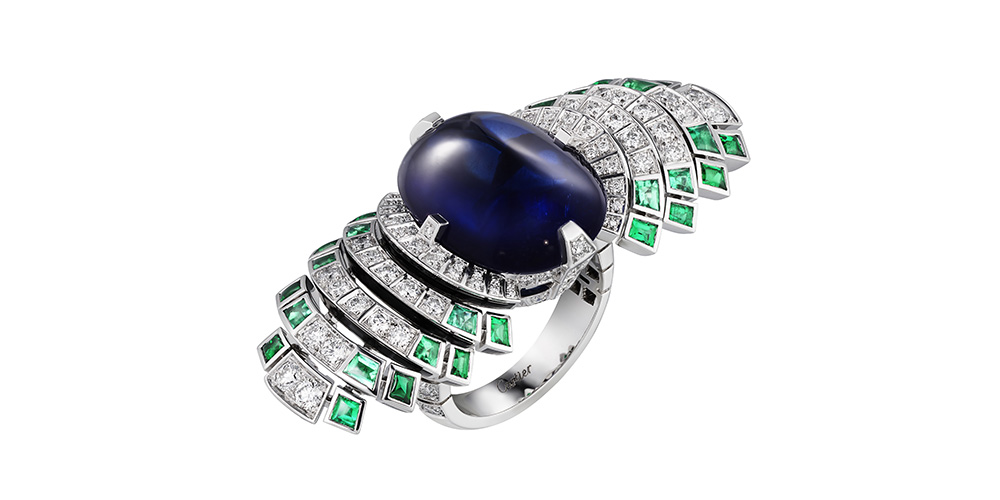 The Alaxoa necklace is designed in a V shape that plunges into the cleavage and resembles a zippered piece of fabric. The gems are set using what Cartier calls the threading technique, which involves threading the stones onto a wire to form strands and fringes. The strands are linked together by tiny metal bridges to create a fan shape, while allowing the fringes to remain mobile. The ends are set with emerald drops.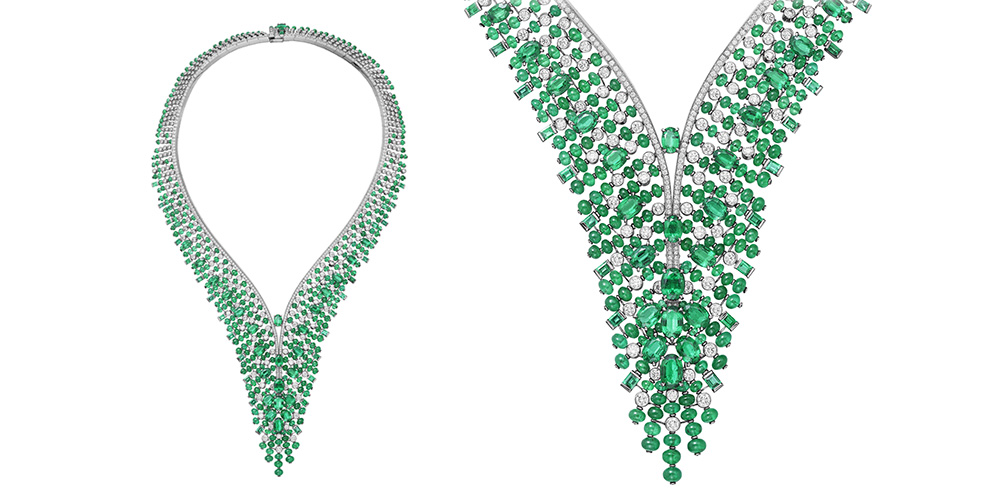 The Sharkara necklace resembles a jeweled necktie in a flourish of pink tourmalines and pink sapphires that resemble berries. The gems, including accents of orange garnets and diamonds, were carefully chosen for their colors.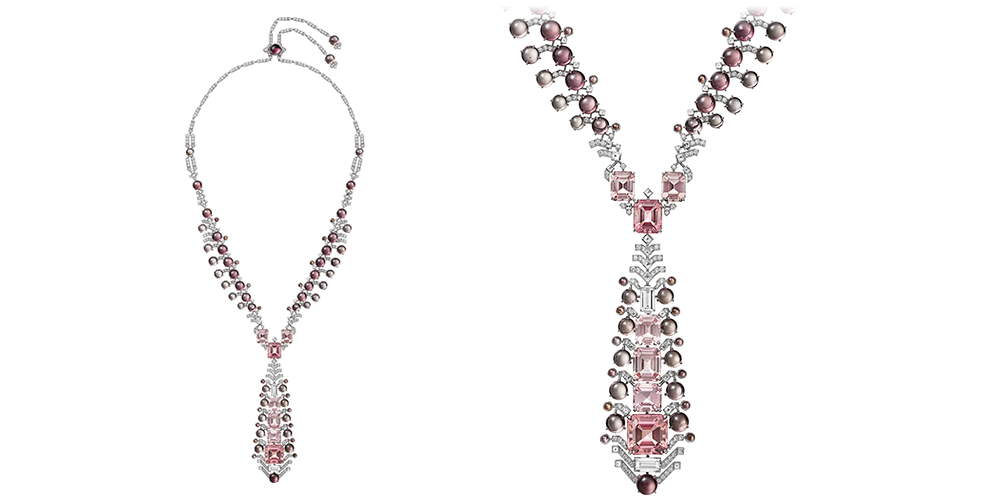 The Coruscant necklace is set with diamonds in six different cuts: kite, octagonal, emerald, triangle, baguette and brilliant, all of them reflecting light from different angles. The chain resembles a tight braid of gemstones leading to a trio of cascading center diamonds.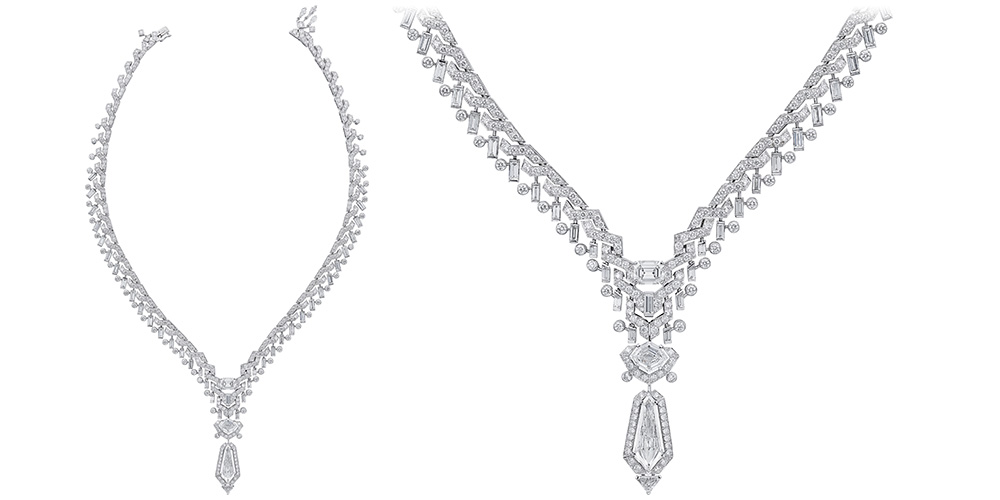 Piaget Extraordinary Lights
This collection is set with a museum-worthy selection of rare gemstones that took years to gather for their perfectly matched colors and clarity. Some of the jewelry pieces are one-of-a-kind, and all are limited.
Piaget has divided the pieces into three chapters that express the interpretation of light, each with two suites of jewelry. Chapter 1 is called Festive Lights, a focus of which is the Blazing Night suite of ruby and diamond jewelry, including a necklace with 12 pear shaped rubies from Mozambique and Thailand. The perfectly matched, eye-clean rubies took several years to source, says Piaget, and the necklace took 400 hours to make. The rubies are surrounded by round and radiant cut diamonds. A matching ear cuff adds a modern touch. There is also a ring and a jeweled cuff watch.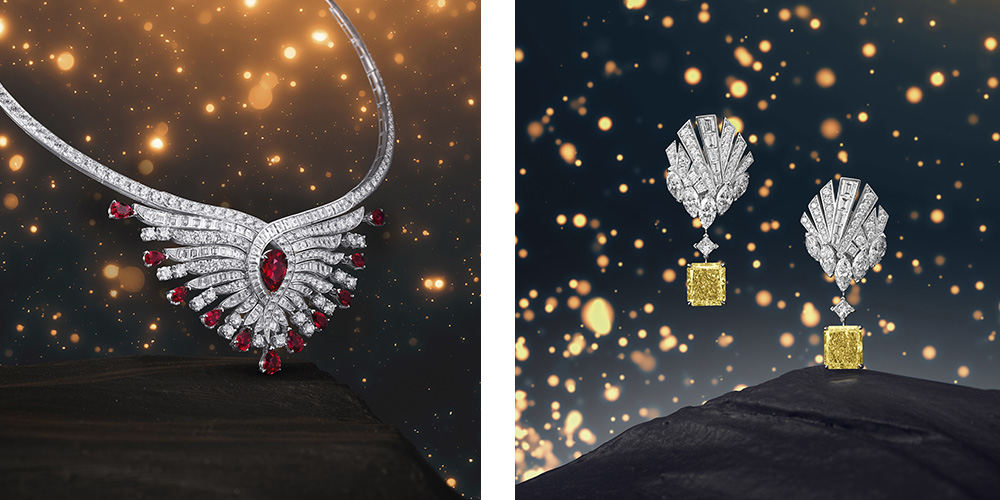 The second suite, Blissful Lights, is a light show of radiant cut yellow diamonds inspired by lanterns.
Chapter 2, Magical Lights, includes the Magical Aurora suite of jewelry set with emeralds and diamond jewelry, inspired by the aurora borealis. The center stone in the necklace is a square cut 16.84 carat Colombian emerald, and the center stone in the ring is a 4.78 carat Colombian emerald, surrounded by a starburst of diamonds.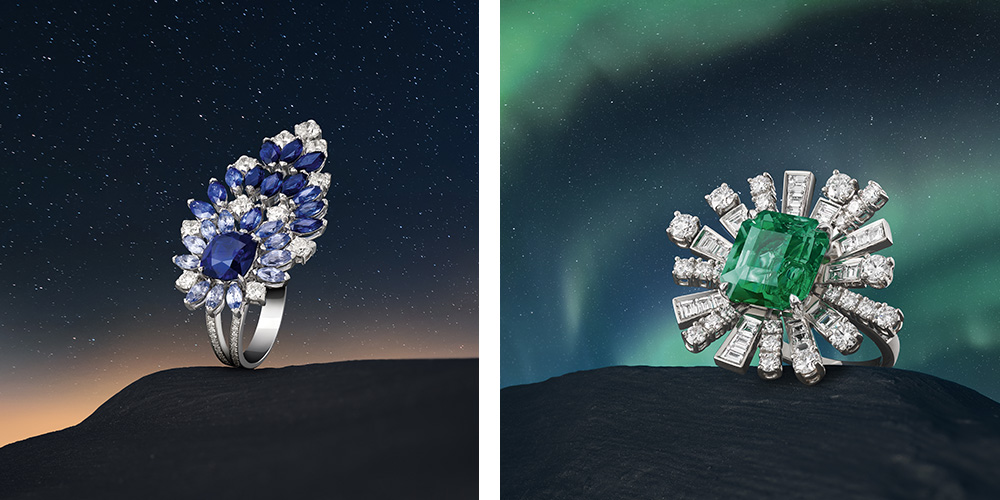 Gloaming Illuminations includes a necklace that mimics the colors of the sky at nightfall with 27 pink, purple and blue sapphires in graduated hues. Piaget says it took two years to assemble the gems. The matching ring is centered by a 6.53 carat pink sapphire.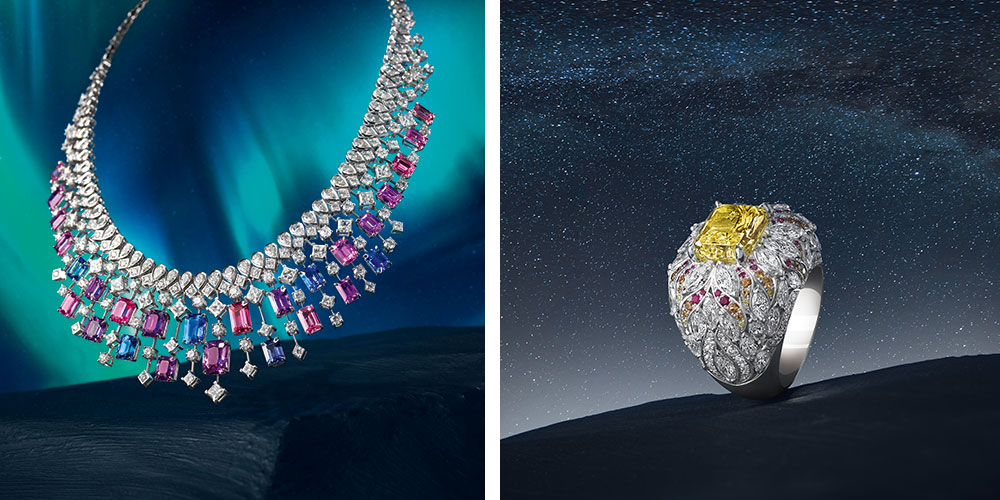 Chapter 3, Infinite Lights, includes the Extraordinary Lights suite, set with large, rare, fancy vivid yellow diamonds. It includes a back/front necklace that can be worn nine different ways, and a ring set with a 5.54 carat cushion cut yellow diamond surrounded by red spinels, spessartites and diamonds.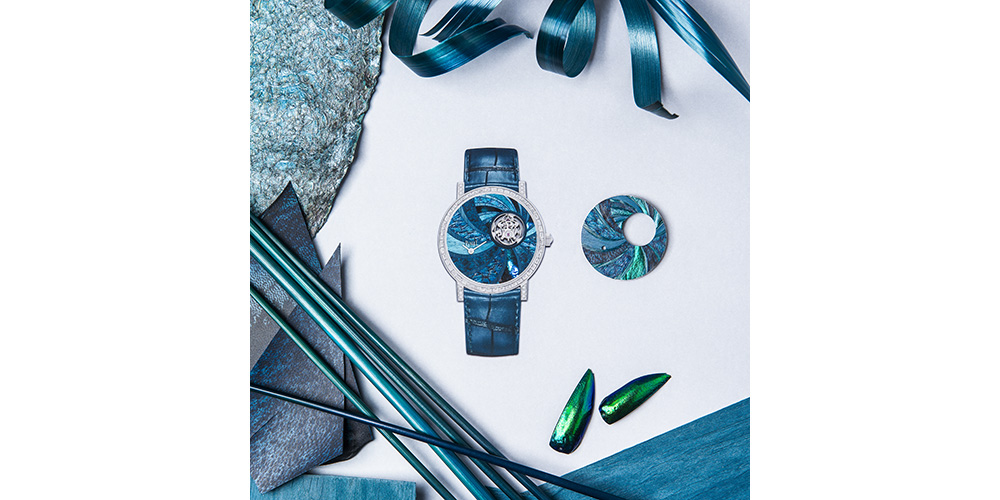 The highlight of the Celestial Dance suite is a watch with a dial meant to mimic the night sky using a marquetry of mixed materials, including blue straw, leather, parchment, elytron (beetle wings) and hornbeam. Only eight of these watches will be made, since the dial of each takes 50 hours to create. It contains the Piaget caliber 670P flying tourbillon movement.