High Tech Jewelry from Place Vendôme?
Boucheron lets in the light, and the result is beautiful COLOR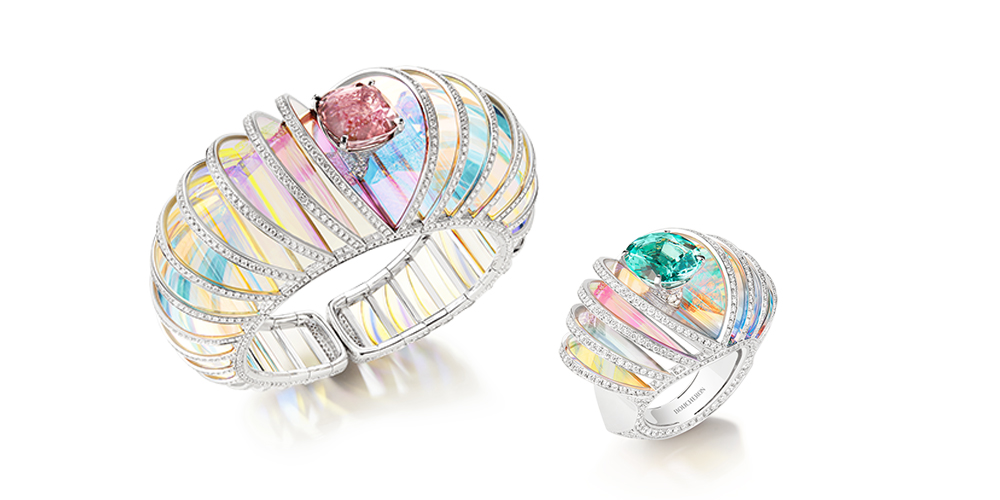 By Carol Besler
Boucheron's Holographique collection is what happens when one of the oldest jewelers on Place Vendôme combines old world jewelry making with space age technology.
"I wanted to capture the full spectrum of light and color, and its power to change one's surroundings," says Boucheron creative director Claire Choisne. "More specifically, I wanted to produce that suspended, unexpected moment when a rainbow appears, evoking a sweet euphoria, teeming with emotions."
Choisne found a way to reproduce the iridescent rainbow effect both naturally and artificially. First by using a cornucopia of colored gemstones, including opal, with its natural iridescence, and secondly by using a special coating used in the aerospace industry, made by French aeronautics company, St. Gobain. It starts with oxide of titanium and silver that is crushed to create a powder, which is molted down and sprayed in thin layers at high temperatures onto rock crystal or white ceramic. The result is a collection of sculpted jewelry that reflects light in an ever-changing prism effect.
The use of this new technology juxtaposed with precious gems "goes against the particular discipline which defines French high jewelry," says Choisne, "except of course, it matches the very spirit advocated by Frédéric Boucheron. The freedom to create above all else."
The collection consists of 25 pieces in nine sets, priced at $55,000 to $700,000. Each set is named after different light elements.
Opalescence:
A necklace and a single earring designed as a fish, with fins made of powdered opal using a plique-à-jour technique. The pendant can be transformed into a brooch or placed delicately in the hollow of the ear to create an asymmetrical, ultra-modern jewel. It is set with a 71.69 ct oval cabochon opal from Ethiopia, a 46.91 ct pear cabochon opal from Ethiopia and opal beads, for a total carat weight of 1,518.78 cts, with lacquer in pink gold.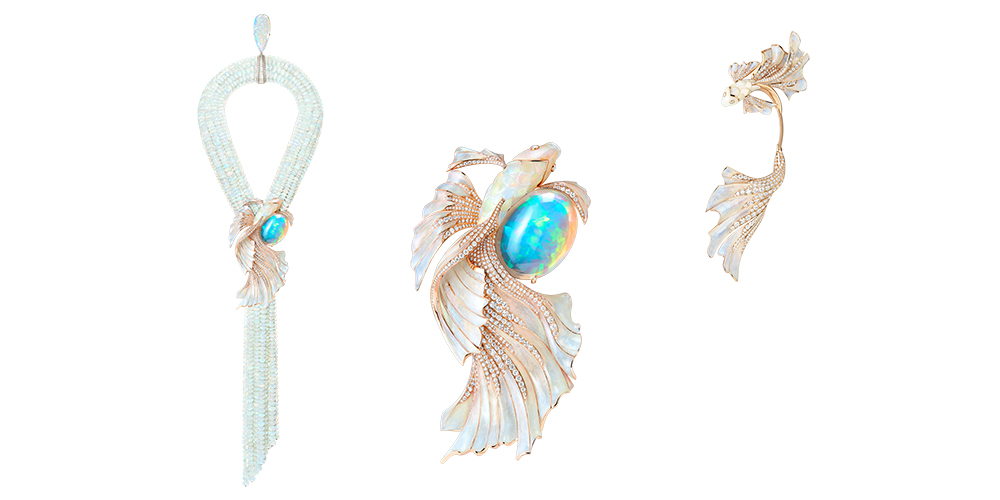 Ondes:
A riviera style necklace of opals with a fine stream of diamonds, along with hoops set with opals for a total carat weight of 16.14 cts, including, mother-of-pearl and diamonds, in white gold.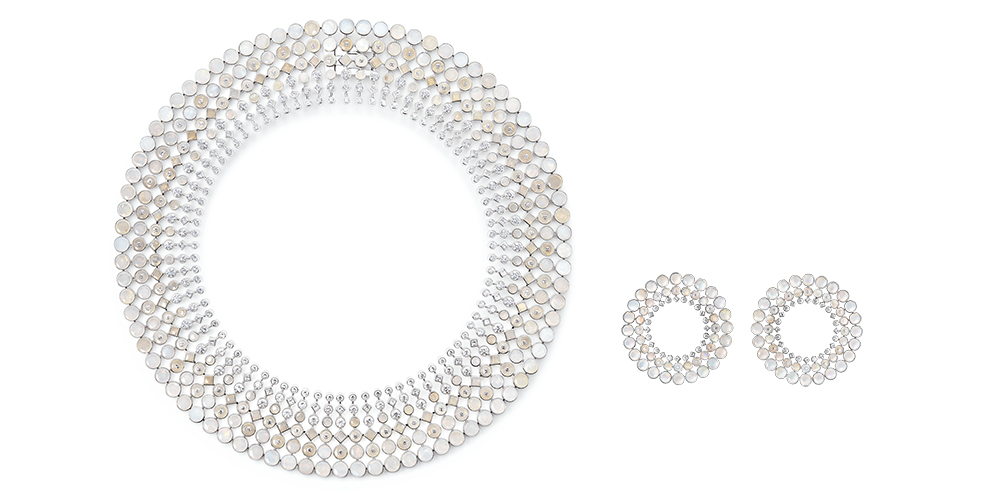 Illusion:
This trio of rings is set with central opals from Australia and Ethiopia that are seemingly multiplied in size due to the trompe-l'oeil frames set with a gradation of multicolored stones. Ring one is set with a 50.95 ct pear cabochon white opal from Ethiopia, blue, yellow and pink sapphires, tsavorites, orange and green garnets, emeralds, blue tourmalines and diamonds, in white gold.
Ring two is set with a 10.38 ct pear cabochon dark opal from Australia, rubies, pink, orange, yellow and blue sapphires, red garnets, tsavorites and diamonds in white gold. Ring three is set with a 30.98 ct oval cabochon black opal from Australia, sapphires, paraiba tourmalines, tsavorites and emeralds in white gold.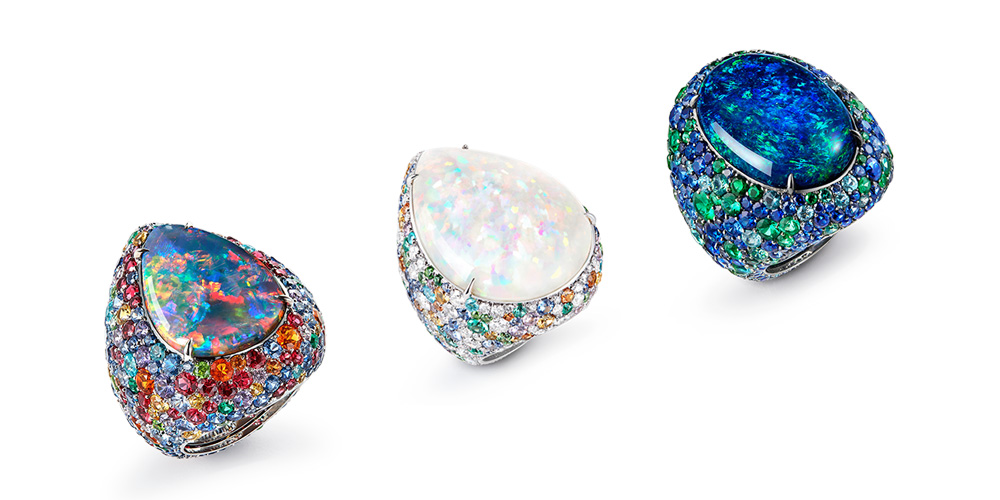 Chromatique:
This set celebrates the peony and pansy in a re-creation of the curves and volumes of the petals. Each is molded from white ceramic and coated with a holographic coating. The first set consists of a brooch set with a 25.01 ct cushion-cut green tourmaline from Mozambique, and two rings, one set with a 12.73 ct cushion-cut pink tourmaline, holographic ceramic and diamonds.
The other set features a 2.83 ct cushion-cut blue aquamarine, holographic ceramic and diamonds in titanium and white gold.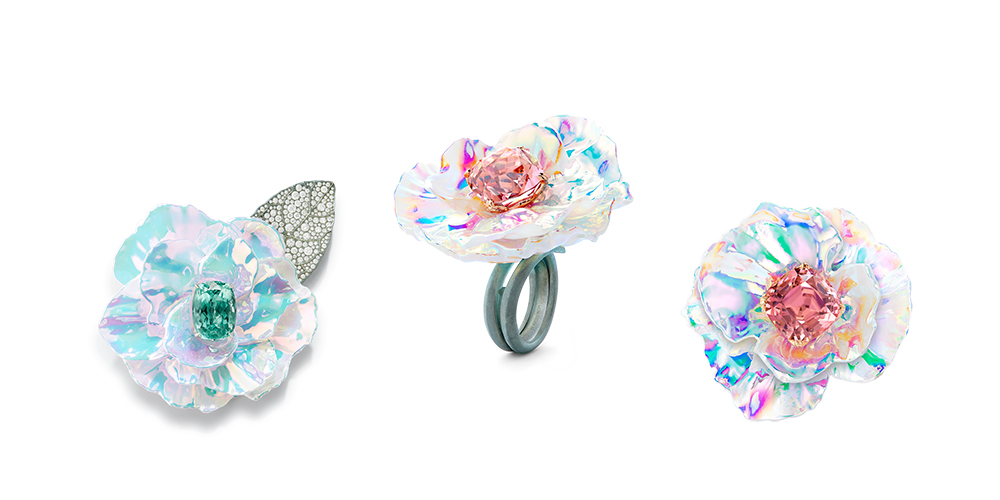 Faisceaux:
This rock crystal cuff and brooch are given a holographic coating and then set with diamonds in pink gold.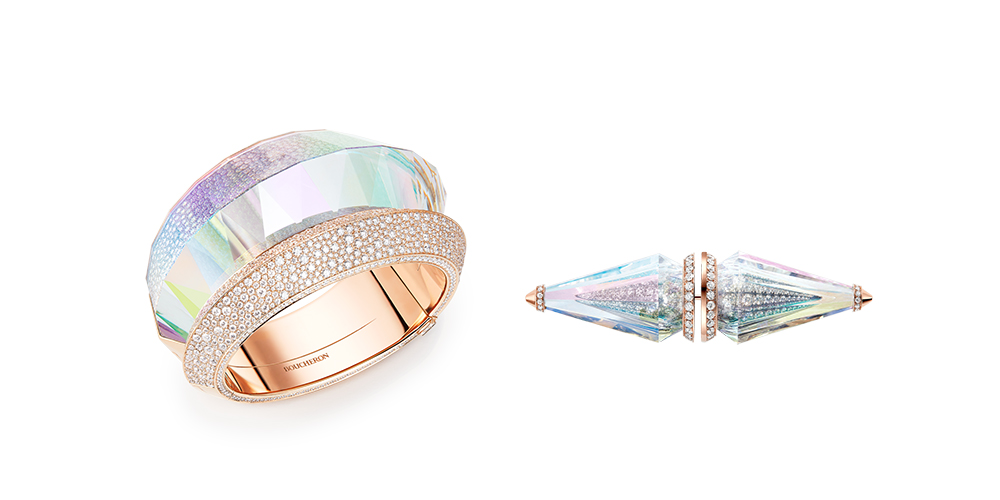 Halo:
Here, the rock crystal is coated and accentuated by diamonds, which can be found both on the double-sided cuff and on the architectural torque necklace, cuff, and ring set.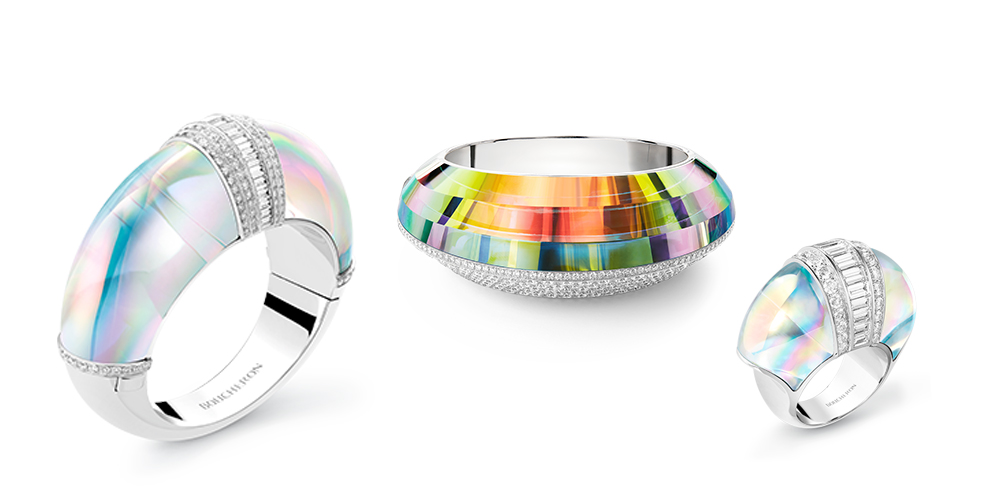 Laser:
This set starts with pigmented ceramic. The necklace is set with 23 pear aquamarines for a total carat weight of 130.01 cts. The pendant earrings are set with four pear aquamarines for a total carat weight of 56.26 cts, and the ring is set with an 11.88 ct pear aquamarine, along with diamonds.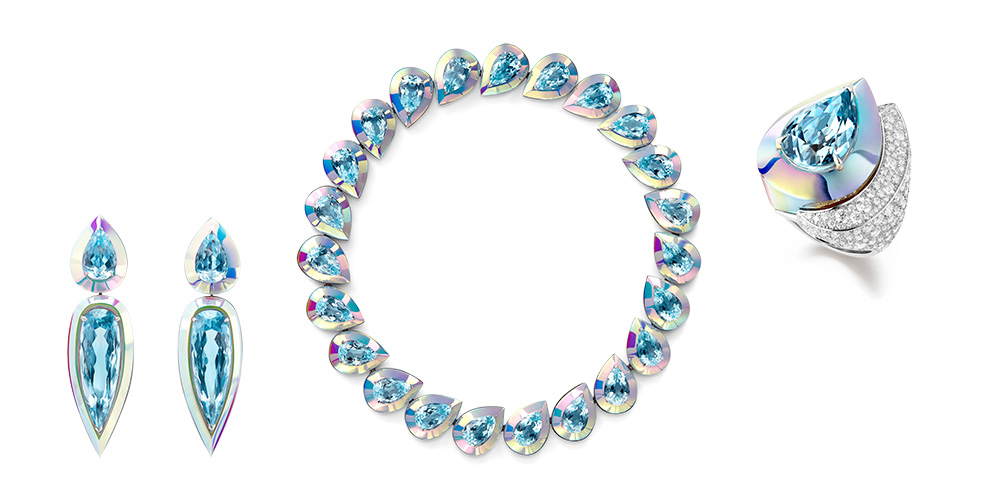 Prisme:
The bracelet displays multiple rows of crystal and diamonds that play with the light. The ring and pendant earrings take the form of a stretched pear cut. Slight notches duplicate their radiance.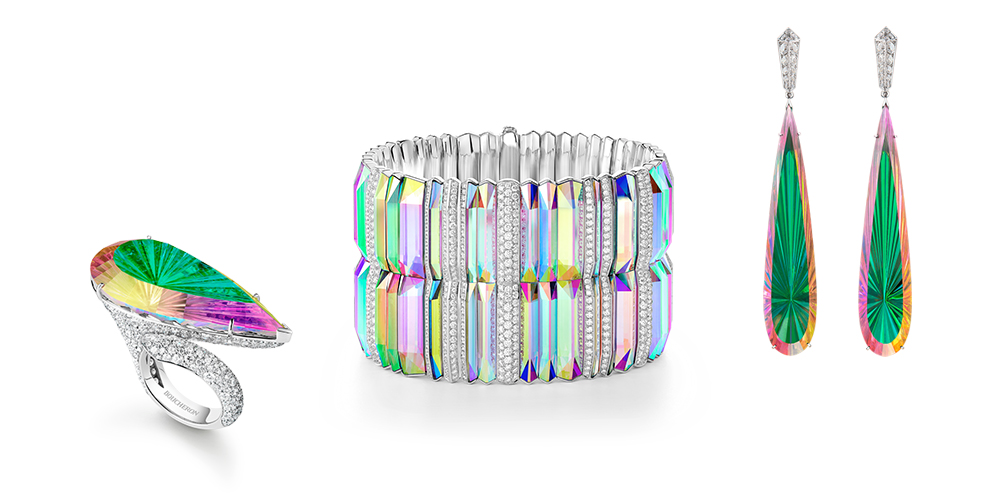 Holographique:
The necklace is made of fine crystal blades and diamonds is set with a 20.21 ct octogonal yellow sapphire from Ceylon and rock crystal paved with diamonds in white gold.
The bracelet is set with a 14.93 ct cushion-cut pink tourmaline and holographic rock crystal, paved with diamonds in white gold. The ring is set with a 4.61 ct oval blue tourmaline and holographic rock crystal, paved with diamonds in white gold.