Flora, Fauna & Food
In technicolor
Ten quirky jewelry designs to bring you closer to the birds and the bees and the dinner table
by Carol Besler
There has been no greater inspiration for jewelry design over the past century than nature. Flowers, trees, rivers, oceans, wildlife and lush, edible plants have served as motifs for some of the world's most important and creative jewelry designers. Colored gemstones have been a big part of the creative process – just as color is a key element of nature. Natural gemstones are, of course, a part of that beauty.
Here, they are harnessed to represent spectacles of nature: the feathers of a tropical bird, the lush green of a meadow in spring, the riot of colors in a field of flowers – nature's gifts to the jewelry designer. Fresh food has its own beauty, and much of that stems from color as well. The following awe-inspiring or mouth-watering flora, fauna and food inspired pieces were sold last year at either Christie's or Sotheby's auctions.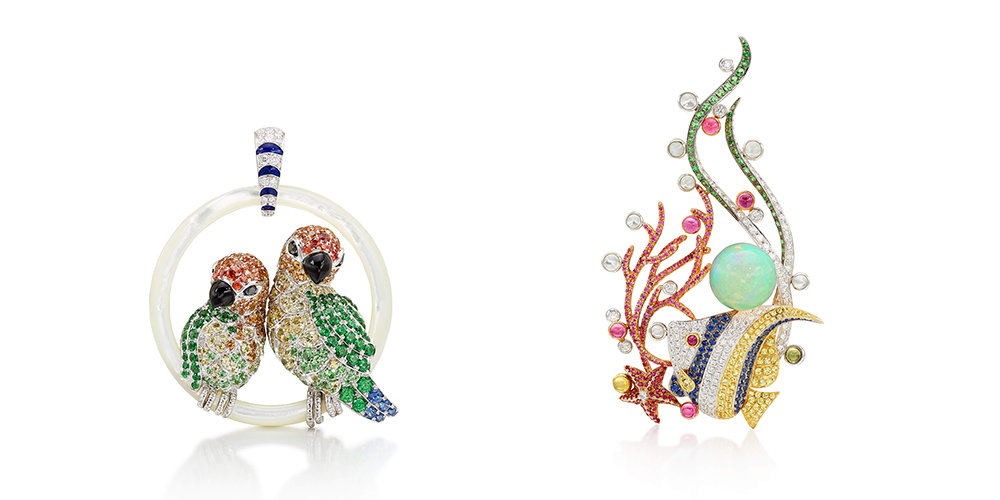 Left: This Love birds pendant in 18k white gold is set with diamonds and 12 carats of sapphires in pink, orange, yellow, yellowish green and bluish green. The beaks are carved out of onyx and the hoop is mother-of-pearl. Courtesy of Sotheby's. Right: The stripes on this angelfish are created with in diamonds, sapphires and yellow sapphires, plus a ruby for the eye. The designer showcases several other gemstones in a portrayal of the sea weed, coral, starfish and bubbles surrounding the fish, using moonstones, tourmalines, rubies, sapphires, tsavorite garnets and diamonds, along with a stunning 20-carat opal. Courtesy of Sotheby's.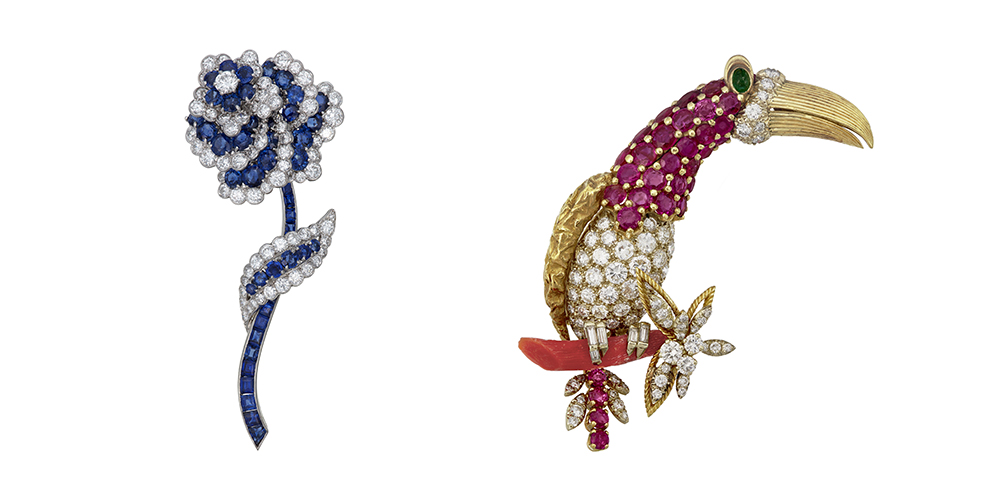 Left: Van Cleef & Arpels was a master of the floral brooch, and this one is a rare example of one that was not invisibly set (except for the stem). Instead, the camellia is set with an impressive 40 large round and caliber-cut sapphires, surrounded by round brilliant diamonds. Set in platinum, the piece was made in 1958. Courtesy of Christie's. Right: Cartier loved birds – the flamingo brooch owned by the Duchess of Windsor is a prime example. This toucan, who looks ready to attack, is clutching a branch made of carved coral. His body is set with round diamonds a rubies, with an oval cabochon emerald and claws set with baguette diamonds. It is set in 18k yellow gold and platinum and made in 1965. Courtesy of Christie's.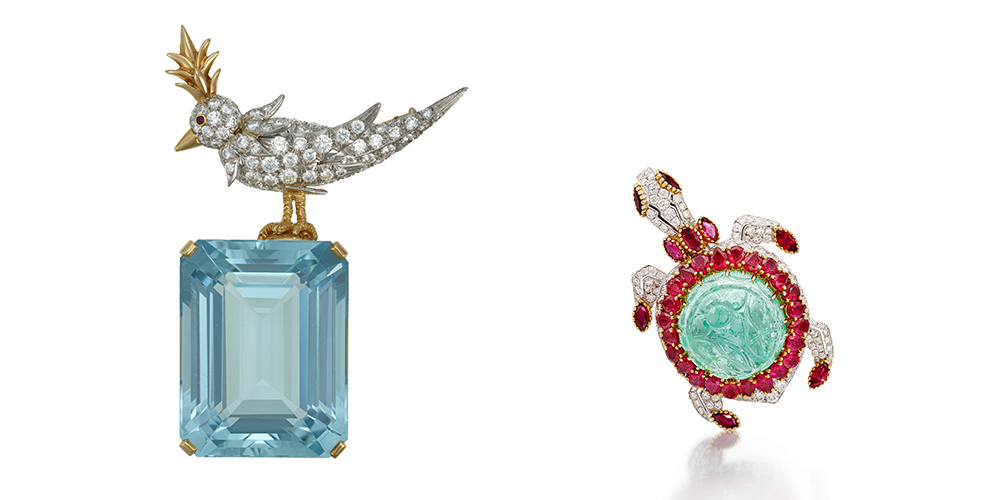 Left: Jean Schlumberger had a special talent for working with color, and this piece is a beautiful example of the jeweler's creativity. Who else would take a grand, emerald-cut aquamarine, perch a bird on top of it and call it a brooch. The bird is set with diamonds, with a ruby for the eye. It is set in platinum and 18k yellow gold. Signed Tiffany & Co. Schlumberger. Courtesy of Christie's. Right: This brooch is designed as a turtle, whose body is represented by an extraordinary, carved yellowish green Colombian emerald. It is surrounded by a ring of pear-shaped rubies and round brilliant diamond legs with rubies for feet and eyes, all set into 18k white and yellow gold. Courtesy of Sotheby's.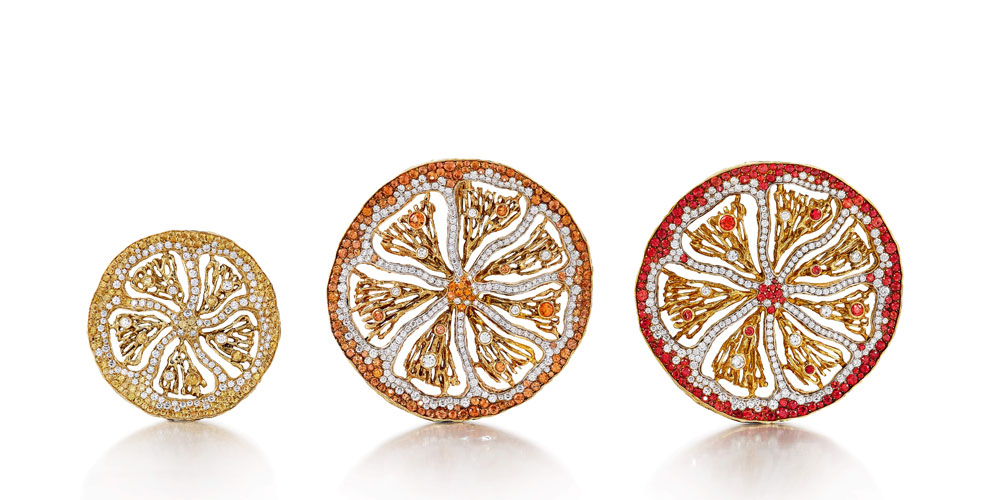 In a brilliant use of colored sapphires, this trio of pendants represent slices of fruit: a lemon, a grapefruit and an orange. They are set with 5-7 carats of fancy colored sapphires, with 3-5 carats of diamonds set into the rows of yellow gold that separate the sections of the fruit. All are signed Jewellery Theatre. Courtesy of Sotheby's.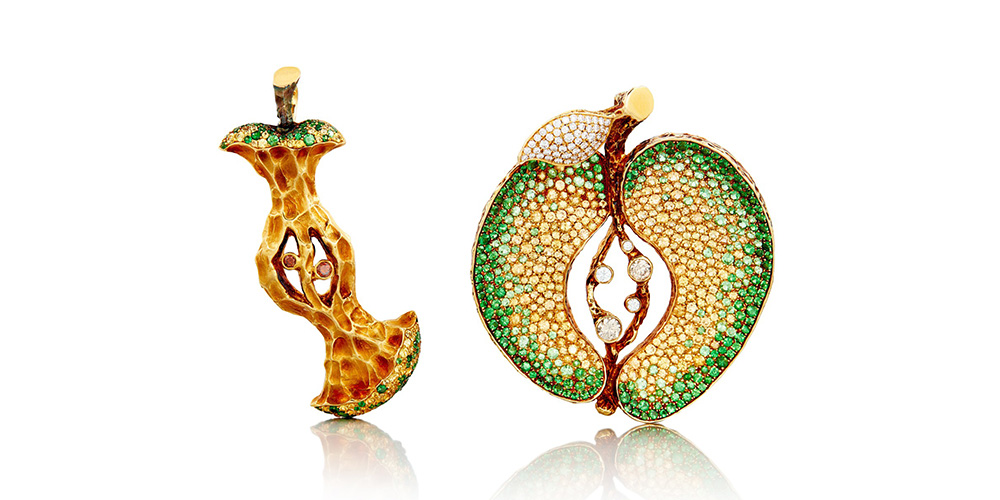 The apple slice is set with brilliant-cut diamonds and circular-cut green garnets and yellow sapphires. The core is set with brilliant-cut brown diamonds, circular-cut green garnets and yellow sapphires, set in 18k yellow gold. Both are signed JT for Jewellery Theatre. The green garnets weigh a total of approximately 2-3 carats. The yellow sapphires are on average medium yellow of medium saturation. Courtesy of Sotheby's.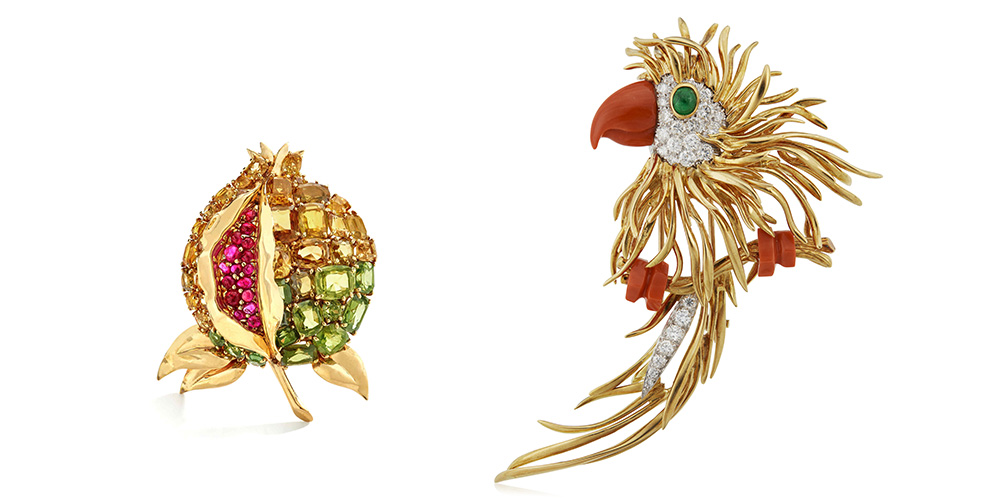 Left: Famous American jeweler Verdura created and signed this exceptionally styled pomegranate brooch using green and yellow zircons – which could easily be mistaken for citrines and peridots – and rubies, representing the pomegranate seeds, set into sculpted 18k yellow gold. The zircons are oval and cushion shaped and the rubies are cabochons. Courtesy of Sotheby's. Right: This parrot brooch, sold by Christie's, is designed in sculpted 18k yellow gold representing the feathers and body, with deeply saturated coral used for the beak and feet, with round brilliant diamonds representing the head and a large emerald for the eye. A tapered row of round brilliant diamonds represents a tail feather. It was designed by Paul Kutchinsky. Courtesy of Christie's.