Engaging in Color
Color stone rings are popular choice for Millennials marrying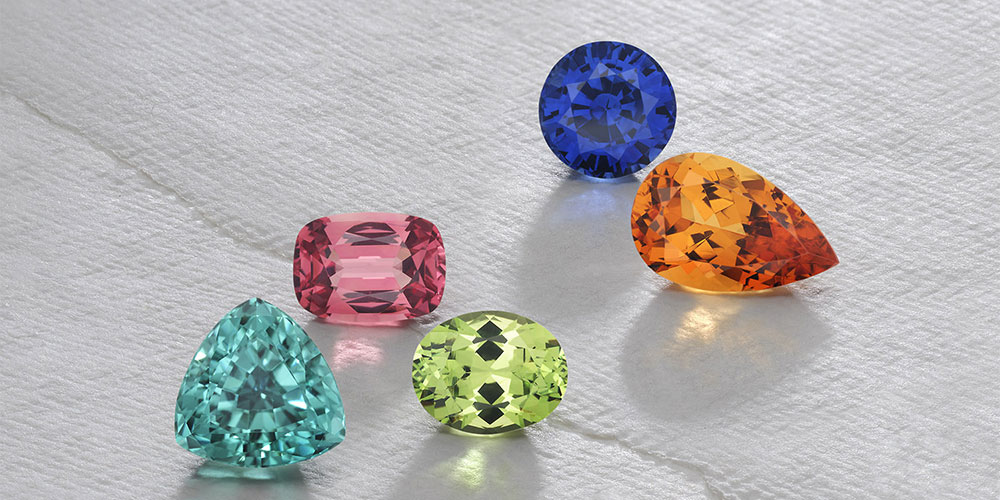 By Deborah Yonick
Diamond may be a girl's best friend, but so is sapphire, ruby, emerald, and much more when it comes to engagement and wedding rings today. For a generation of couples who value individuality, personalization and being involved in the process, the experience of finding the right rings is part of their wedding story.
Couples want rings they believe express who they are, and colored stones make the strongest distinction. Severine Ferrari, editor and publisher of yourengagement101.com, finds in the proposal portal's data that couples choose colored gemstones for many reasons, including self-expression and personalization (like using their birthstones or the gem representing the month they met); ethical views (a sustainable and transparent supply chain matters); and economics (can get more bang for the buck).
Kothari © From left to right: 18K light pink heart diamond and white and fancy light pink round diamond ring. 18K fancy vivid yellow radiant diamond and white tapper diamond ring. 18K white gold emerald and diamonds ring. 18K fancy blu radiant diamond, fancy pink purple radiant diamond and fancy purplish radiant diamond ring.
A study conducted in the fall of 2020 by MVI Marketing, jewelry market research specialists, finds colored stones are capturing more attention, with younger consumers extremely interested in buying precious gemstone jewelry and engagement and wedding rings. Over 93% of the more than 1,100 U.S. jewelry consumers in the survey love or like all three of the precious gem trio — sapphire, ruby and emerald.
Bridal jewelry with precious colored stones saw the largest category increase from both consumers and jewelry retailers, finds MVI. Consumer interest in and demand for gemstone engagement and wedding rings have increased to more than 30%, from single digits only a decade ago. Jewelers have responded in kind by boosting their colored stone wedding ring offerings, especially online.
Color Me Bride
Color presents an opportunity that is every jeweler's wish, an experience that's 100% personal, authentic and unique to each couple," describes Samantha Larson, gemstone director for Stuller, the Lafayette, Louisiana jewelry supplier and ICA member. "Color is emotional and personal, and it makes for a great experience to select one that you think your significant other will love or to select one together and talk about why that specific color. Maybe it was the color of her dress the first time you saw her, or the color of your favorite sports team where you will propose on the Jumbo Screen…"
Most enthusiastically, the popular women's lifestyle portal Bustle heralds 2021 as the end of a collective obsession with diamond as the love stone for engagement rings. Schooling followers, the ezine tells that it wasn't until 1947 that De Beers launched "A Diamond Is Forever" (from the mind of N.W. Ayer Advertising Agency's Frances Gerety) and diamond engagement rings became a trend.
Millennial consumers don't feel the pressure of the diamond-buying tradition for their wedding rings, finds Los Angeles designer Niveet Nagpal, Omi Prive, an ICA member. "They did not grow up under the influence of 'A Diamond is Forever'. If they are going to wear something on their finger for the rest of their life, they want something that better represents them as individuals and their story. That can be reflected in the color of the gem, style of the design, or both."
Omi Prive ©. Left: Platinum & 18K yellow gold ring featuring a 1.70 carat oval ruby accented by 0.29 carat total weight of round rubies and 0.82 carat total weight of round diamonds. Center: Platinum ring featuring a 16.88 carat emerald-cut blue zircon accented by 1.41 carat total weight of tapered diamond baguettes and 0.27 carat total weight of round diamonds. Right: Platinum ring featuring a 3.27 carat oval Paraíba-type tourmaline accented by 0.06 carat total weight of round Paraíba tourmalines, 0.55 carat total weight of round rose-cut diamonds and 0.20 carat total weight of round diamonds.
Colored stone engagement rings are far from "alternative" as they are often described in trends reports. "It bothers me when it's called 'alternative' as that sounds like second best or second choice," says Erica Courtney, Los Angeles designer and ICA member. "In my experience, if you love color, it's your first choice! I do love the idea that people are showing their individuality with color. People are a lot more comfortable considering colored stones for their rings and it has little to do with money."
Colorful Choices
The use of colored stones in wedding rings is not so new, a favorite of royalty throughout history, with Kate Middleton's blue sapphire engagement ring, once worn by Lady Diana, a stunning recent example. Moreover, many celebrity brides have been proposed to with color, including Katy Perry with ruby, Halle Barry with emerald, and Jenny McCarthy with yellow sapphire.
Blue sapphire is cited as the No. 1 colored stone choice for engagement rings, and perfect "Something Blue," signifying pure love. Second to diamond in durability, September's birthstone comes in nearly every color, with pink and yellow sapphire almost as popular as blue. Courtney even sees white sapphire as a popular pick for people who do not want diamond.
Ruby, July's birthstone and iconic symbol for passionate love, is a strong second for brides. Signifying faithful love, May's birthstone emerald is the third coveted engagement gem that has been especially popular in recent years.
Left: Sapphire diamond platinum stack. Right: AGTA Spectgrum Buff ring by Annalise Stack.
But what's really exciting today is that people are not just choosing blue sapphire and ruby anymore, says Samantha Larson, gemstone director for Stuller, the Lafayette, Louisiana jewelry supplier and ICA member. "People are interested in spinel and tourmaline, and where they come from, who found them, and what makes them unique – not only as a stone, but unique to the wearer. The stories behind the stones play a part."
While sapphire and ruby are bridal bestsellers, Nagpal also finds his clients are attracted to the more exotic stones, including alexandrite, padparadscha sapphire, paraiba tourmaline, blue zircon, and spinel.
The way Larson puts it there's no one color dominating bridal center trends, other than color itself. But she does find strong interest lately for gems in cool tones like teal, purple and violet, greens from bright lime to earthy olive, and gray and blue spinel. She also sees sizable demand for multi-dimensional hue gemstones, like bicolor tanzanite and color change sapphires.
Birthstones Big
It has long been believed that when you wear the gemstone that coincides with your birth month it can activate your chakra, enhance your aura and energy, stabilize your thoughts, and help you feel aligned with your soul purpose. For the past decade, younger generations of consumers have embraced gems and their good vibrations, particularly birthstones to personalize treasured jewelry.
In 2019, Etsy declared birthstone engagement rings the breakout wedding-trend. In the first three months of the year, the etailer reported 34,000 searches for birthstone engagement rings.
Kicking off 2021, Google Trends revealed the top searched gem for engagement rings in January was amethyst. As February's birthstone, this cool toned gem has always been linked to love and romance, although it is best known as a gem of good fortune and optimism. The second highest searched gem that month was opal. October's birthstone and gem of hope, happiness and faithfulness, opal is coveted for its unique play of color.
The beryl gem family also provides two other popular colored stone options beyond emerald, notably peachy-pink morganite and March's birthstone aquamarine, which seem to show up in most trends reports.
"Colored stones offer so much diversity, each one uniquely different and beautiful, you don't get that with diamond," says Philip Zahm, gemstone importer, jewelry designer and ICA member based in Aptos, California. In the industry for more than 40 years, Zahm says he has always envisioned the possibility of colored stones in bridal, but says the shift of public awareness has been gradual in the face of huge momentum and intelligence from the diamond category. "But it is happening." Next to sapphire, he says he also gets calls for emeralds, tourmalines, opals, and a variety of garnets for bridal rings.
Left: Adora ring, John Dyer pink sapphire. Center: Emani ring, burmese spinel. Right: Adora ring, ruby.
Colored diamonds too, are among the bridal favorites, with yellow and pink top choices, but champagne, gray and even brown and black diamonds inspiring brides today. Grooms are particularly drawn to the darker colors in diamonds and gemstones for their rings.
In wedding bands, classic color options prevail, blue sapphire, ruby and emerald mixed with diamond. Stackable styles are popular, allowing a new color stone band to be added every anniversary, continuing the love story. Larson also sees an increase in ombré designs in wedding bands, where a customer selects the basic color set in a graduation of shades from light to dark. "We're seeing this a lot in pinks, purples, blues, and yellows."
Top Image: Bridal gemstones from Stuller ©